Outdoor Activities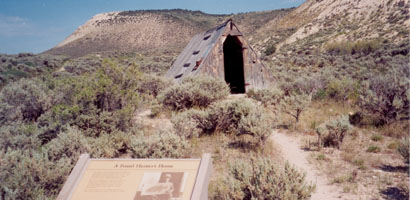 Hiking Trails
Two trails with wayside exhibits provide opportunities to experience the geology, fossils, wildlife, plants, and wide-open spaces of Fossil Butte National Monument. Both dirt trails gain elevation and have some steep up and down sections. Wear sturdy hiking shoes, carry plenty of water, and protect yourself from the sun and insects. Vault toilets at each trailhead are wheelchair accessible.
Horseback Riding Enjoy the national monument from a different perspective. Horseback riding (bring your own horse) is allowed in the monument along stock trailing corridors. Riders please note requirements at bottom of route map.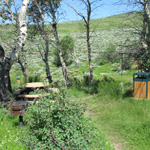 Picnic Area Aspen trees shade the picnic area 2.5 miles north of the visitor center. Tables, charcoal grills, and water are available. The walkway from the parking area, one picnic table, and vault toilet are wheelchair accessible. The parking area is suitable for trailers and RV's.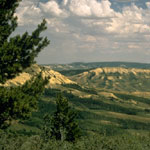 Scenic Drive
A 7.5-mile scenic drive (3.5 miles paved, 4 gravel) provides another view of Fossil Butte and the surrounding area. Wayside exhibits along the paved section interpret the present-day wildlife and the subtropical environment of 50 million years ago. Visitors driving
LARGE RV'S OR PULLING TRAILERS ARE ENCOURAGED TO TURN AROUND AT THE PICNIC AREA.
The gravel road beyond the picnic area parking lot is narrow and steep. Allow 30 minutes to an hour to complete the drive.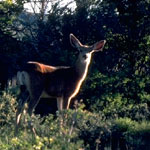 Wildlife Viewing
"Is sagebrush the only thing that grows here?" "Where are the animals?" visitors ask. From a distance, this place may appear desolate. A closer look reveals springs and seeps that support aspen groves, willow thickets, beaver ponds, limber pine forests, and other plant communities. These different habitats are home to a variety of animals and plants.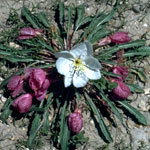 Wildflowers in Sagebrush Country
Wildflowers of many colors abound in the various plant communities of the monument. In late May and early June, the low growing cushion plants explode into bloom. In June and July, watch for larkspur, sego lily, camas, paintbrush, blue flax, lupine, phlox, geranium, wild rose, and shooting star just to name a few.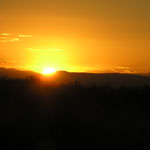 Night Sky Viewing
Lots of open space and almost no light pollution make Fossil Butte National Monument a good place to view the night sky.


Last updated: February 24, 2015