Natural Features & Ecosystems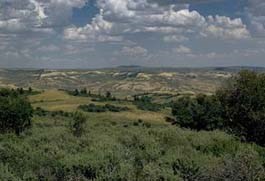 Fossil Butte National Monument offers a window into life in southwestern Wyoming 50-million years ago during the Eocene Epoch. Today's high-desert environment of the national monument is a stark contrast to the sub-tropical lake environment of the past.
At Fossil Butte National Monument and 15 other national park units, the Northern Colorado Plateau Network conducts long-term inventory, monitoring, analysis, and reporting on key park resources to assess the condition of park ecosystems and develop a stronger scientific basis for stewardship and management of natural resources. In cooperation with park staff, the network monitors climate, invasive exotic plants, land surface phenology, landbirds, and landscape dynamics at the monument.


Last updated: February 24, 2015