Traveling Trunk
Fossil Education Kit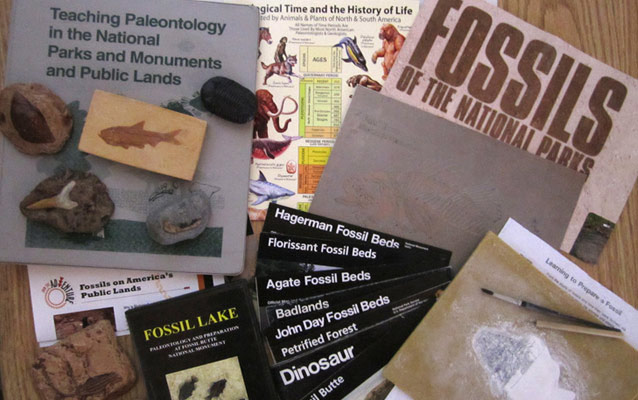 Teaching Paleontology in the National Parks and Monuments and Public Lands includes four units organized into grade specific lesson plans: fossilization and human influences for 2nd grade, and adaptation, community and human influences for 3rd grade.
 All units have fossil themes and complement Wyoming, Idaho, and Utah science standards. Each unit begins with an introduction followed by a vocabulary list, background information for the teacher, pre-questions, pre-site activities, field trip ideas, post-questions, post-site activities, a list of National Parks and Monuments that illustrate concepts of the unit, and a reference list for teachers and students.
 All activities are highly interactive. Although designed around a field trip, activities are easily adaptable for groups unable to visit a fossil site. Pre-site activities prepare the student for a field trip. The exercises include vocabulary lists, games, art projects, and PowerPoint presentations. Post-site activities enable the learner to apply their field trip experiences to their own lives. By design, the exercises stimulate interest and a greater appreciation for fossils.
 The curriculum is designed for use with a traveling kit that includes casts of fossils from different geologic times, park brochures from each fossil park, Geologic Time and the History of Life poster, Fossils of the National Parks poster, PowerPoint presentations that introduce fossils, environments, and adaptations, plastic cast of a fossil fish for a fossil preparation activity, a fossil rubbing plate and other items. The kit is available for checkout.
Borrowing Instructions
Kits are available for loan to any school or group teaching about fossils. The kits are housed in Rubbermaid containers, 19" x 12" x 12", and weigh approximately 20 pounds. Kits may be kept for a maximum of four weeks. Users are responsible for return shipping.
To request a kit, contact the lead interpreter at 307-877-4455 ext. 24 or via e-mail.
Details
Subject:

Art, Biology: Animals, Community, Paleontology, Physical Education, Social Studies, Writing

National/State Standards:

Wyoming, Colorado, Utah, Idaho Standards; National Science Education Standards

Keywords:

fossils, paleontology, adaptations, community

type:

Traveling Trunk