Plant a Tree at Flight 93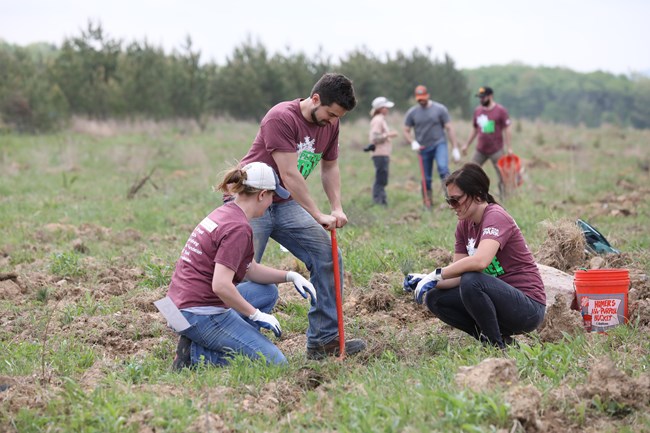 Over the course of two days, April 26-27, 2019, the National Park Service, the Friends of Flight 93, and the National Park Foundation will continue a major reforestation effort to reseed 150,000 trees that will eventually result in large areas of new forest at the memorial.

Currently 116,318 trees have been planted in key areas across the memorial landscape in an effort to grow a healing landcape to honor the passengers and crew members of Flight 93.
Planting a National Memorial
The reforestation project has been a collaborative partnership that is shared by state and federal goverment agencies and both private and academic organizations. Nearly 3,000 volunteers over the past seven years have made this project possible. Since beginning the plantings in 2012, 167 acres have been reforested. These trees, which are a mixture of several native species, will form an essential windbreak to protect trees planted in the nearby Memorial Groves. Much of what is now the memorial is a former surface coal mine and this effort will also help re-establish woodland wildlife habitats and cultivate a living memorial.
Reclaiming Former Coal Mines

Plant-a-Tree at Flight 93 is part of larger effort to reforest former coal mines all across Appalachia.  Explore this wider effort through this wonderful piece by journalist, artist, and NPR contributor Jonna McKone. Originally aired on the Allegheny Front www.alleghenyfront.org/

Duration:

4 minutes, 21 seconds

Credit / Author:

Jonna McKone - www.jonnamckone.com/
Last updated: April 23, 2019