Cell Phone Tours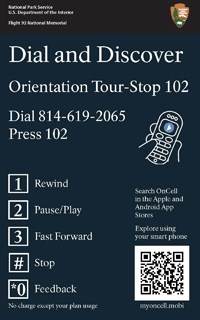 Dial and Discover
Flight 93 National Memorial's new cell phone and mobile web tours are now live. Discover the story of Flight 93 and explore the memorial through the convenience and versatility of your cell phone/smart phone.

Visitors can either:
Call

(814) 619-2065

Scan

QR codes

Download

the OnCell app
Signs like the one above indicate a tour stop.
Explore the different tours
Orientation Tour
Story Tour
Design Tour

Last updated: September 10, 2021