Commerical Quarries and Dude Ranches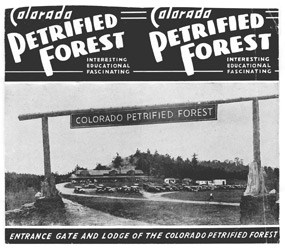 Starting in the early 1920's and perhaps earlier, a variety of commercial tourist sites enticed visitors to see the massive petrified redwoods and collect fossils.
Colorado Petrified Forest
The Colorado Petrified Forest was a private concession and dude ranch that featured the Big Stump. The main lodge building was the old train depot from the town of Florissant. Inside the lodge were exhibits of fossils and a massive fireplace made out of petrified wood. The Colorado Petrified Forest was owned by the Singer family and ran from the 1920's until the area became a monument. It had previously been called the Coplen Petrified Forest.
Pike Petrified Forest
Just 1/2 mile south of the Colorado Petrified Forest was the Pike Petrified Forest which featured the Redwood Trio. This site was owned at different times by the the Hendersons, Millers, and Bakers. The Pike Petrified Forest also operated from the 1920's unit the Monument was established in 1969.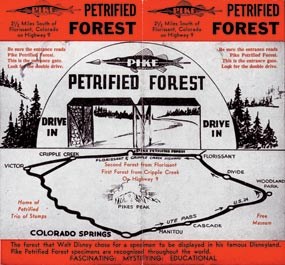 Last updated: February 7, 2016