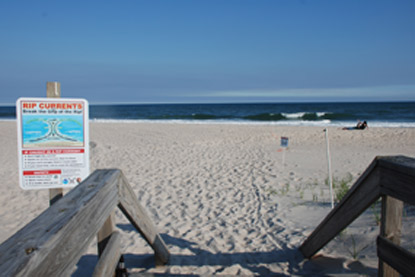 News Release Date:
June 8, 2009
Contact: Paula Valentine, 631-687-4759
Now that warmer air and ocean water temperatures are tempting people into the surf, a rip current safety message greets beach-goers at Fire Island National Seashore. Park rangers placed educational posters, "Rip Currents: Break the Grip of the Rip," at strategic locations on Fire Island and at ferry terminals that provide access to the island. On-duty at all hours, and at sites where there are no lifeguarded beaches, the informative poster provides valuable guidance on how to identify a rip current and what to do if a person is caught in a rip current.
According to Chief Ranger Jay Lippert, Fire Island National Seashore lifeguards rescued 62 swimmers last summer at the park's three lifeguarded beaches. However, much of the shoreline along Fire Island is "Swim at Your Own Risk." "We have installed these posters to inform and protect people who aren't swimming at a protected beach, or who go into the water after hours," stated Lippert. "Rip currents are the primary cause of distress for swimmers on Fire Island. About 85% of the Seashore's 'saves' last year were rip-current related."
Rip currents are narrow channels of fast-moving water that pull swimmers away from the shore, moving at speeds of up to eight feet per second. According to the United States Lifesaving Association and National Oceanic and Atmospheric Administration (NOAA), rip currents are surprisingly strong and swift, and are the leading surf hazard, claiming nationally more than 100 lives every year. For that reason, NOAA and the National Park Service (NPS) have teamed up to sponsor Rip Current Awareness Week, June 7-13, with the theme "Break the Grip of the Rip®."
Before going into the ocean, check for these signs of a rip current:
a channel of churning, choppy water
an area having a notable difference in water color
a line of foam, seaweed, or debris moving steadily seaward
a break in the incoming wave pattern
None, one, or more of the above clues may indicate the presence of rip currents. Rip currents are often not readily or easily identifiable to the average beach-goer. For your safety, be aware of this major surf zone hazard. Polarized sunglasses make it easier to see rip current clues.  
If you are caught in a rip current, swim in a direction following the shoreline. When free of the current, swim at an angle away from the current toward shore. Swimmers who try to swim against a rip current straight back to shore often fail to overcome its strength, risking exhaustion and drowning.
Never swim alone.
NOAA has more information about rip currents on their web site at www.ripcurrents.noaa.gov, including high resolution image of Rip Currents poster.
Link to a pdf version of this press release.