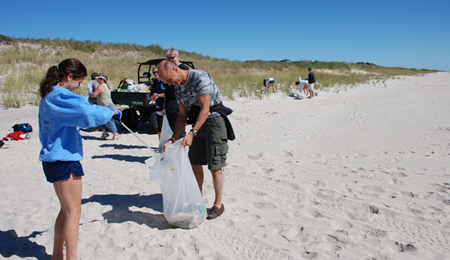 News Release Date:
September 12, 2012
Contact: Paula Valentine, 631-687-4759
You can be a part of the 27th Annual International Coastal Cleanup (ICC) by joining an organized beach cleanup on Fire Island this Saturday, September 15. Fire Island National Seashore is hosting a clean-up event on the Fire Island Lighthouse bayside beach from 9:30 a.m. to noon. Parking is available at Robert Moses State Park Field #5 ($10/vehicle fee charged). Reservations are accepted by calling 631-687-4780. Registration and check-in will be at the Fire Island Lighthouse on the morning of the program.
"We'll work in teams," said park volunteer coordinator Irene Rosen, "scouring about a mile of the shoreline along the Great South Bay between Robert Moses State Park and the community of Kismet." Just dress for the weather, pack your lunch, bring your work gloves, and wear comfortable work boots or sturdy shoes and a hat.
"The results of our morning's efforts will be recorded and added to the tallies from all the other New York coastal cleanup sites," said Rosen. Last year, 25 Fire Island National Seashore participants gathered 10 bags of trash from six miles of shoreline. Some of the Fire Island communities have also been involved in this annual cleanup for many years. The American Littoral Society (ALS) coordinates the International Coastal Cleanup programs for New York. In 2011, ALS reported that 6,368 volunteers participated at almost 200 cleanup sites, removing 93,644 pounds of debris (5,819 bags) over a total of 262.18 miles of New York's shoreline. ALS has posted a list of the New York State 2012 Beach Cleanup Sites.
Part of the program includes an analysis of the debris collected. Volunteers record the number of bags, balloons, bottles, fishing line, buoys, crates, building materials, car parts, cigarette filters, and more.
"We appreciate the volunteers' efforts to help clean up the beaches," said Fire Island's Chief of Interpretation Kathy Krause, "but we hope that this brings attention to the fact that our oceans are a valuable natural resource, and we should all do our part to ensure that litter and debris doesn't make it into the streams, rivers, bays and ocean to begin with."
As part of National Public Lands Day on Saturday, September 29, another beach cleanup is planned near the Wilderness Visitor Center. This program will also be conducted from 9:30 a.m. to noon.
For more information or to register for oone of the programs below, contact the Office of Interpretation at 631-687-4780 or e-mail us.