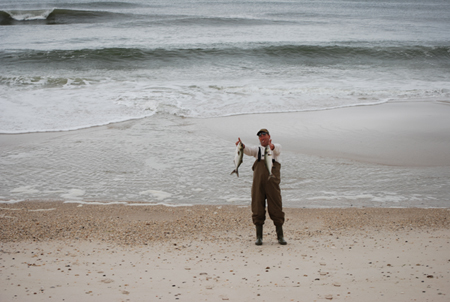 News Release Date:
October 22, 2012
Contact: Kathy Krause, 631-687-4772
Contact: Paula Valentine, 6321-687-4759
Patchogue, New York - Fire Island National Seashore is featuring a special presentation for anglers and other outdoors enthusiasts. Boats & Beaches, Bass & Bluefish, Fluke & Flounder: Fire Island Fisheries will be held on Sunday, November 11, 2012, at 1:00 p.m. inside the Patchogue-Watch Hill Ferry Terminal, 150 West Avenue in Patchogue. National Park Service (NPS) Marine Fisheries Scientist Karl Brookins will discuss the findings of an ongoing research project on Fire Island, and will share information gathered from other recreational marine fisheries sources.
As part of the NPS Ocean and Coastal Park Resources Stewardship and Science program, Dr. Brookins has gathered and monitored data about marine fisheries within several Atlantic coast national park units. Fishing seasonality (when people are fishing), conveyance and gear (how anglers get to their sites and what they use), angler characteristics (where fishermen are coming from), and actual catch statistics are among the data that he will discuss. These statistics for Fire Island were gathered between 2007 and 2009 as part of the National Oceanic and Atmospheric Administration (NOAA) Marine Recreational Information Program (MRIP). The NPS survey conducted on Fire Island during the summer of 2012 will provide additional information about Fire Island's recreational fishery. Dr. Brookins encourages local fishermen to share their questions, feedback about, and valuation of the information presented. "We hope to increase public awareness of this valuable resource, and preview with stakeholders the information that will be used by National Park Service managers in planning for the future," said Brookins. "Accurate information is very important for managers to have when reviewing possible impacts to fishing opportunities or to native fish species."
Many NPS areas provide for appropriate recreational fishing, while also striving to ensure that fishing opportunities and native fish ecosystems are passed on to future generations in as good as, or better than, the condition that exists today.
Fire Island National Seashore includes 26 miles of Atlantic ocean beach, and almost 75% of the acreage within the boundaries of the park is aquatic. Numerous species of migratory and resident fish can be found in park waters.
Anglers fishing within the boundaries of the Seashore must currently possess a no-fee New York State recreational marine fishing registration card. New York State recreational saltwater fishing seasons, size and possession limits apply. In the fall, the Seashore sells a sportsman's recreational driving permit for use between September 15 and December 15 on a six-mile stretch of beach between the Wilderness Visitor Center and Long Cove, as a means of access for waterfowl hunting or fishing. Smith Point County Park, which lies entirely within the boundaries of the Seashore on the eastern end of Fire Island, also provides outstanding recreational fishing opportunities.
Learn more about fish and fishing at Fire Island National Seashore:
# # #