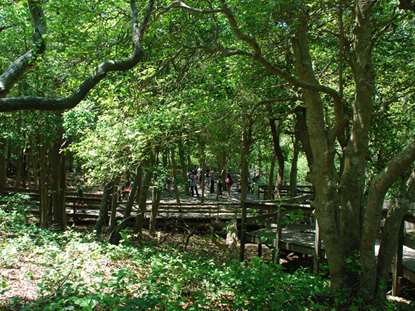 News Release Date:
August 17, 2013
Contact: Kathy Krause, 631-687-4772
Contact: Paula Valentine
The National Park Service (NPS) turns 97th on August 25, 2013, which is an appropriate time to reflect on the value of all public lands, especially your local national park. Fire Island National Seashore is hosting a variety of special programs from late August and Labor Day weekend and into the fall, so mark your calendars! There's a lot to see and do before warm weather is gone, and a lot to learn about Fire Island.
Long-time Fire Island researcher and ecologist Henry Warren Art, will present a talk on Wednesday, August 28 at the Patchogue Ferry Terminal and a lead a guided walk at the Sunken Forest on Saturday, August 31. Art, currently a professor of biology and environmental studies at Williams College in Massachusetts, conducted extensive vegetative studies on Fire Island from 1967-70 and produced the NPS science monograph, Ecological Studies of the Sunken Forest, Fire Island National Seashore, New York, published in 1976. Art returned to conduct follow-up research for the NPS from 1985-95. His last visit to Fire Island was in 2002. "I've seen a lot of changes in Fire Island over the years," said Art, "and look forward to sharing some of my long-term findings."
A variety of other programs are available at the William Floyd Estate, Watch Hill, Sailors Haven, and at the Wilderness Visitor Center. The Fire Island Lighthouse is still not able to conduct tower tours due to construction, but Dave Griese of the Fire Island Lighthouse Preservation Society reports, "We've created a 'Lighthouse Towerless Tour' as compensation! Our staff and volunteers are providing guided tours of the Keepers Quarters Museum, Fresnel Lens Building and Boat House on an hourly basis until we can resume tours to the top of the lighthouse. The only thing missing is the view!"
For more information, see: