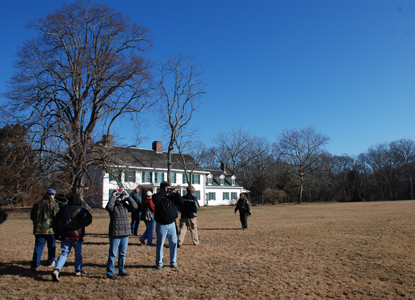 News Release Date:
January 3, 2013
Contact: Paula Valentine, 631-687-4759
Although parts of Fire Island remain closed due to post-storm recovery, ranger-guided hikes and other special programs are scheduled for the William Floyd Estate and the Wilderness Visitor Center throughout the winter. Weather and conditions permitting, there are opportunities to enjoy some public lands within Fire Island National Seashore throughout the year.
Hurricane Sandy left its mark on Fire Island, which is still recovering from storm damage and undergoing extensive debris removal. The Fire Island Lighthouse will remain closed during the recovery process. The Fire Island Lighthouse Preservation Society, which operates the lighthouse for the Seashore, has cancelled its winter programs.
Winter hikes and other programs will continue at the Wilderness Visitor Center, but all hikes now go no further than the new breach at Old Inlet, which opened up during Hurricane Sandy. You can learn how Sandy transformed the landscape of Fire Island during a short outdoor program about The Storm Beach and barrier island dynamics, which will be held on Saturday, January 12, 2013 from 1:00 - 2:00 p.m. You can hone your winter photography skills during the indoor/outdoor Picture This! Photography Workshop planned for Saturday, January 19, from noon - 3:00 p.m. Ranger-guided hikes and children's programs resume in February. Conditions permitting, the Wilderness Visitor Center will be staffed Friday to Sunday and holidays, 9:00 a.m. - 4:00 p.m., through February 2013. Wilderness/backcountry camping permits are not expected to be issued until public access to designated camping areas has been restored. For more information, call 631-281-3010 or 631-687-4780.
While the William Floyd Estate and its Old Mastic House have closed for the season, the grounds will be open for ranger-guided tours this winter. Highlights include strolls through the William Floyd Estate Winter Woods on Sunday, January 13 and Saturday, February 23 (10-11:30 am), an Old Mastic Winter Bird Walk on Saturday, January 19 and Sunday, March 17 (9-11:30 am), a 3-mile round-trip hike during the Old Mastic Way to the Bay, on Sunday, January 20 and Sunday, February 10 (10 am - Noon), and the Old Mastic Winter Botany Walk on Saturday, January 26 and Saturday, March 2 (10 - 11:30 am). Bundle up and learn about the barns and outbuildings during a new winter program, Barns on the Farm, on Sunday, January 27 (10-11 am). For more information or directions, call 631-399-2030.
Great Backyard Bird Count (GBBC) programs will be held at both the William Floyd Estate and at the Wilderness Visitor Center on Saturday, February 16.
For all outdoor programs, pack a snack, dress for the weather and wear sturdy shoes. Bring a sense of adventure and explore the seashore in all its seasons!
See complete Calendar of Events and Activities or download a copy of Fire Island National Seashore's monthly programs.