White-tailed Deer Research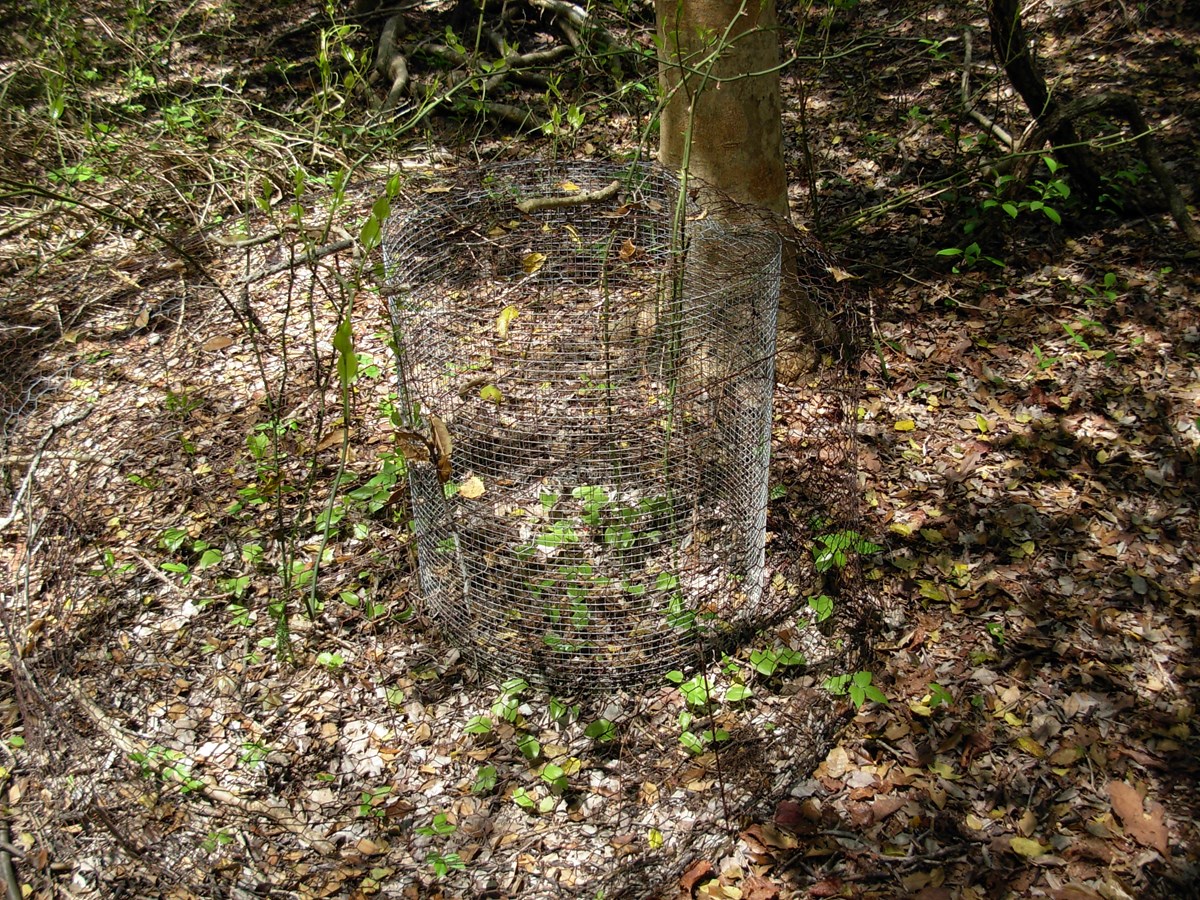 In 1974, Fire Island's deer herd was estimated at 50 individuals; by 1989, it was close to 500, and in 2003 it was estimated to be 500-700. From population density studies conducted over the past seven years, it is estimated that 300-500 deer now live on Fire Island. As a result of high deer densities on Fire Island there is increased concern about associated human health and safety risks, the island's native vegetation and the deer themselves.
More than forty years of vegetation studies in Fire Island's Sunken Forest reveal an alarming reduction in the number of herbaceous plants and small trees in the understory of this rare maritime forest. Some scientists are concerned that the types of trees we see today like centuries-old American holly, and sassafras, shadblow and black gum are not growing in the understory at densities high enough to support regeneration of the Sunken Forest.
From 1993-2009, the National Park Service conducted a long-term research project cooperatively with university scientists from SUNY ESF, the Humane Society of the United States (HSUS), and several communities to determine whether an immunocontraceptive vaccine can be useful at Fire Island as a deer management tool. Bait stations were set up to lure deer into appropriate areas and female deer were darted with PZP (porcine zona pellucida), which prevents does from becoming pregnant. The results of this study will be used in the Environmental Impact Statement (EIS) process to develop a deer management plan.
Whenever possible, natural processes are relied upon to maintain native plant and animal species and influence natural fluctuations in populations of these species. The National Park Service may intervene when certain criteria are met. (2006 Management Policies, Chapter 4, Section 4.4.2).
Fire Island National Seashore's objective is to determine what management actions are needed in order to keep the deer population within a range that will not significantly impact native vegetation within the boundaries of the park.
Fire Island National Seashore is also one of the parks in NPS Northeast Region that hosted a 2003-2007 research project relating to human-wildlife interactions. Cornell University's Deer, People and Parks web page provides more information.
The National Park Service is concerned about the health, safety and welfare of both animals and people.
The long-standing tradition of feeding deer by people on Fire Island is not in the animals' best interest. Deer behavior and population dynamics- and possibly their susceptibility to chronic wasting disease (CWD)- are adversely affected when fed by humans.
In addition, deer play an indirect role in the transmission of Lyme disease to people. Cornell University and the New York State Department of Environmental Conservation have conducted a 4-Poster Deer and Tick Study on Fire Island since 2008 to determine the efficacy and risks associated with applying low levels of pesticides to white-tailed deer to control ticks.
Two 4-Poster Tick stations were placed within two communities each year. These stations, filled with corn, were used to study the effect of the pesticide, Permethrin, on tick abundance. In order to feed at a station, deer pass their head and neck through rollers that applied the pesticide. Regular tick "drags" were carried out in the immediate vicinity to monitor the number of ticks.
Results from this study will be especially helpful in management decisions regarding the tick-borne bacteria that causes Lyme disease. For more information please visit Cornell University's Wildlife Control Information website.
Last updated: February 26, 2015