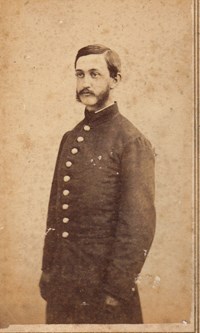 John Gelston Floyd, Jr.
(May 10, 1841 - Nov. 27, 1903)

On April 12, 1861, the opening shots on Fort Sumter in Charleston, South Carolina changed the world and lives of almost everyone. For the next four years, the bloodiest war in United States history was fought.

In September of 1862, the war reached the William Floyd Estate. At that time the Old Mastic House was the home of William Floyd's great-grandson, John Gelston Floyd, Sr., and his wife Sarah. Their fourth child, John G. Floyd, Jr., enlisted and joined the Union army at Staten Island along with 27 other Long Island men, some from the Town of Brookhaven that John himself had recruited.
John G. Floyd, Jr. served as a 2nd Lieutenant in the 145th New York Volunteer Regiment, Company G, which was organized at Staten Island, New York, and mustered in September 11, 1862.