Fire Island During the Civil War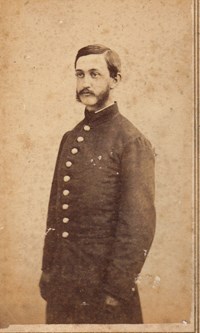 John Gelston Floyd, Jr.
(May 10, 1841 - Nov. 27, 1903)

On April 12, 1861, the opening shots on Fort Sumter in Charleston, South Carolina changed the world and lives of almost everyone. For the next four years, the bloodiest war in United States history was fought.

In September of 1862, the war reached the William Floyd Estate. At that time the Old Mastic House was the home of William Floyd's great-grandson, John Gelston Floyd, Sr., and his wife Sarah. Their fourth child, John G. Floyd, Jr., enlisted and joined the Union army at Staten Island along with 27 other Long Island men, some from the Town of Brookhaven that John himself had recruited.
John G. Floyd, Jr. served as a 2nd Lieutenant in the 145th New York Volunteer Regiment, Company G, which was organized at Staten Island, New York, and mustered in September 11, 1862.
Letters to His Mother

After a period of outfitting and training, the 145th New York Regiment was prepared to deploy into battle.
John G. Floyd, Jr. wrote home to his mother:
Frederick, Maryland
Oct. 1, 1862

Dear Mother

We have arrived here at last- all right. The regiment left Staten Island on Saturday. We went through Philadelphia that night and reached Baltimore on Tuesday, Washington Sunday night and stayed there until Monday night. We marched up to see Stantons departure and were received by the president in person, a rare honor. President Lincoln has a ... look, rather care worn.
By November, Floyd had news to share from West Virginia.
Harpers Ferry
Nov. 19, 1862

Dear Mother

I write to you reposing on a real frame bedstand with bed clothes & sheets, or at least one sheet on it, & if you would know the reason for this ... luxury, it is that I have been detailed by the Major General Slocum, to the hazardous and responsible duty of commanding a party of carpenters at work on the hospital at Harpers Ferry...
In March 1863, John was detailed into Battery F of the 4th U. S. Artillery, where his commanding officer, Captain Franklin B. Cosby, was also his 2nd cousin.
You can follow the experiences of John G. Floyd, Jr. during these troubling times through his correspondence with family back home at Old Mastic. Check back as additional letters are posted throughout the year in 2013:
June 4th, 1863

Dear Mother

I did not forget last night that Sade was being married and I ate the cake you gave me, with my comrades, ....

This morning an order came to have the Battery hitched up at day break and remain in readiness to move, and also to have three days rations issued to the new; we can not tell the meaning of these new orders, but they show that there is a possibility of moving soon; ....

Fairfax
June 15th (1863)

Dear Mother,

We have just arrived here after a tiresome march from our last camp which we left on Saturday afternoon the 13th. after starting we were twenty four hours in the saddle, without sleep or much to eat, to night we will have a good sleep probably. Much of the army is here and it is reported that the whole army is coming now.

Near Anderson Tenn.
November 8 (1863)
On January 6, 1864 Floyd was mustered out with an honorable discharge from the service, thus ending his military career.
Learn More
During the raid of the CSS Tallahasse in August 1864, a pleasure boat from Fire Island's Surf Hotel took on passengers from a schooner that had escaped destruction.
Learn more.
Learn More about the Civil War sites and stories preserved and interpreted in the National Park Service.


Last updated: March 6, 2018