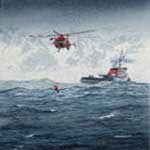 The U.S. Coast Guard Art Program exhibit of 40 paintings by 28 artists will be onview at Federal Hall National Memorial from June 19 to August 8, 2012.
Through these pieces, the public will learn about the many missions performed by the Coast Guard, including search and rescue, environmental protection, national security and law enforcement.
Federal Hall was the home to the first Capital of the United States when Alexander Hamilton, the Secretary of the Treasury, established the Revenue Cutter Service on August 4, 1790. The Revenue Cutter Service, an armed maritime law enforcement service, is considered the predecessor of the Coast Guard.