Permits & Reservations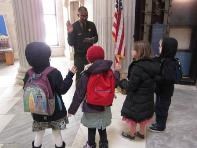 Tour Reservations
Reservations are required for groups of 10 or more, maximum group size is 30 persons. Please call (212) 825-6990 and speak with a ranger to confirm a group tour reservation. A two-week advance notice is necessary. Reservations must be made directly by phone or e-mail. Voice mail messages will not be accepted to reserve a tour. Reservations must be confirmed by a ranger via phone or e-mail to be valid.
Permits
A Special Use Permit is required for any activity that provides a benefit to an individual, group, or organization rather than the park or the public at large. Many of the events
that require permits also require some degree of oversight from National Park Service staff.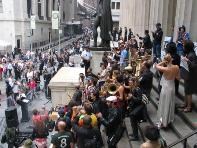 First Amendment Activities
We encourage citizens to exercise rights guaranteed by the Constitution. However, the courts have recognized that activities associated with the exercise of these rights may be reasonably regulated to protect the public and park resources. Therefore, such First Amendment activities involving more than 25 participants require
special use permits
and National Park Service staff may regulate the time, place, and manner in which they are conducted.
Federal Hall National Memorial "First Amendment Rights Area" on the steps of Federal Hall is under construction. During the project no more than 25 participants will be permitted at a time.
Some examples are:
distribution and/or sale of printed matter

religious services

public demonstrations or assemblies, etc.

collecting signatures for petitions
View and print the
Permit Instructions and Requirements for Federal Hall National Memorial
Commercial Filming/Still Photography Application Form
---
For more information regarding special use, commercial filming, and/or short term leasing at Federal Hall National Memorial, please
email us.
---
To apply for a Permit, complete the form, and send it with a non-refundable
application fee of $50 to:

Federal Hall National Monument
National Park Service
Attention: Business Management Program
26 Wall Street, New York, NY 10005

Please make check or money order payable to the "National Park Service". Note that this is only an application form. A permit form will be sent to you as soon as we approve your proposed activity. No Special Use Permit is valid until signed by the Superintendent or other authorized federal official. Please be advised that additional fees maybe assessed, depending upon the nature of the activity.
Last updated: September 25, 2019