Federal Hall National Memorial to host U.S. Coast Guard Art Exhibit
Date & Time

Multiple Days: 07/24/2018, 07/25/2018, 07/26/2018, 07/27/2018, 07/28/2018, 07/30/2018, 07/31/2018, 08/01/2018, 08/02/2018, 08/03/2018, 08/04/2018, 08/06/2018, 08/07/2018, 08/08/2018, 08/09/2018, 08/10/2018, 08/11/2018, 08/13/2018, 08/14/2018, 08/15/2018, 08/16/2018, 08/17/2018, 08/18/2018, 08/20/2018, 08/21/2018, 08/22/2018, 08/23/2018, 08/24/2018, 08/25/2018, 08/27/2018, 08/28/2018, 08/29/2018, 08/30/2018, 08/31/2018, 09/01/2018, 09/03/2018, 09/04/2018, 09/05/2018, 09/06/2018, 09/07/2018, 09/08/2018, 09/10/2018, 09/11/2018, 09/12/2018, 09/14/2018, 09/13/2018, 09/15/2018, 09/17/2018, 09/18/2018, 09/19/2018, 09/20/2018, 09/21/2018, 09/22/2018, 09/24/2018

Fee Information

Free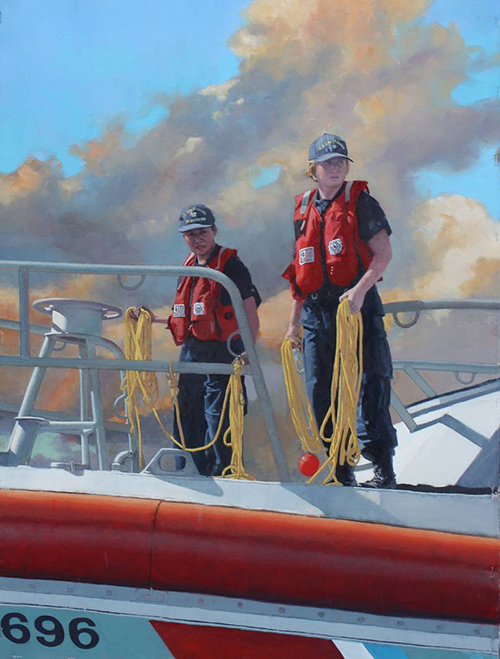 Federal Hall is the perfect venue for this exhibition as this national park shares history with the Coast Guard.  When Alexander Hamilton was Secretary of the Treasury, he had offices at 26 Wall Street—site of the modern-day memorial—in what was the first Capitol of the United States.  While secretary, Hamilton established the Revenue Cutter Service, an armed maritime law enforcement service considered the forerunner of today's Coast Guard.

COGAP, which began in 1981, utilizes fine art as an outreach tool for educating diverse audiences about the United States Coast Guard.  Today, more than ever, the service addresses an abundance of challenges as it works to maintain the nation's security at home and abroad and execute its 11 statutory missions such as drug interdiction, marine safety and marine environmental protection.  COGAP art provides visual testimony to the unique contribution the Coast Guard makes to the nation in its multifaceted role as a military, humanitarian and law enforcement organization.

COGAP members—many of whom are professional artists—donate their works to the collection, which today contains 2,000 works depicting the missions performed by the Coast Guard's approximately 42,200 active duty members.  Since the program's inception, it has been sponsored by the Salmagundi Club, a noted New York City cultural and art center.

Federal Hall National Memorial at 26 Wall Street is located diagonally across from the New York Stock Exchange.  It is open Monday through Friday from 9:00 a.m. to 5:00 p.m. and admission is free.

To learn more about COGAP and Federal Hall, visit www.uscg.mil/art and www.nps.gov/feha.

 
---
Location:

26 Wall Street



Fee Information:

Free



Contact Name:

Information Desk Federal hall



Contact Phone Number:

212 825 6990