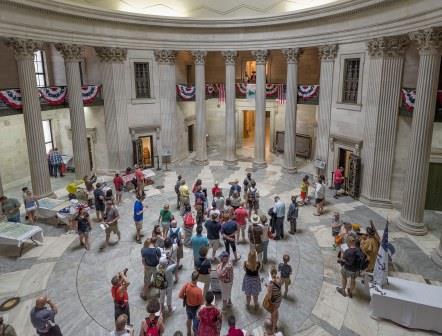 News Release Date:
May 17, 2016
Contact: Superintendent Shirley McKinney, (212)825-6990
New York, NY –The National Park Service (NPS) is pleased to announce that effective June 4, 2016 and extending through September 3, 2016, Federal Hall National Memorial will be open to the public on Saturdays. This decision has been made to accommodate visitors who are not able to visit Federal Hall during the normal Monday through Friday schedule, increased summer visitation, and raised interest in the building and its history since being designated a National Treasure earlier this year.
Located at 26 Wall Street in New York City's Financial District, Federal Hall is the birthplace of American Government. Formerly a British colonial city hall, in 1789 it became the seat of the new American government.On April 30th of that year, George Washington took his oath of office as the first U.S. president on this site. It also housed the first Congress, Supreme Court, and Executive Branch offices.The current structure opened in 1842 as the first U.S. Customs House and served as the New York Sub-Treasury in 1862. John Quincy Adams Ward's bronze George Washington statue, erected on the front steps in 1882, marks the approximate site where Washington was inaugurated as President. Now, the building serves as a museum and memorial, featuring exhibits and historical tours. Admission is always free.