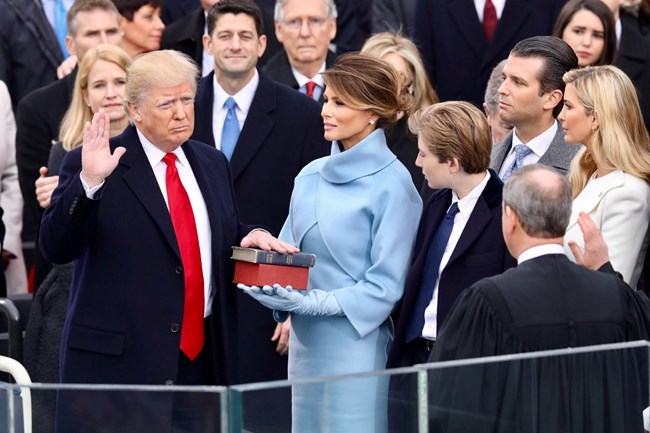 On Friday January 20, 2017, Donald J. Trump was inaugurated as the 45th President of the United States. The public ceremony was the 58th presidential inauguration held on the West Front of the United States Capital Building in Washington, D.C. President Trump was sworn in with his left hand on a pair of Bibles, his personal copy and the Lincoln Bible.
Held in Washington, D.C. from January 17 to 21, 2017, inaugural events included concerts, the swearing-in ceremony, a Congressional luncheon, parade, inaugural balls, and the interfaith inaugural prayer service.
Born and raised in Queens, President Donald J Trump has knowledgeable ties to New York City. After graduating from the Wharton School of Finance, Mr. Trump followed in his father's footsteps as a real estate developer, and he entered the world of real estate development in New York. Now the second president to hail from the city.
Although the inaugural ceremony has taken place in Washington, D.C. for more than two hundred years, many people do not know the first inauguration took place in New York City. When the founders drafted the Constitution in the late 1780s, they decided that New York would serve as the new government's capital. In 1788, the Confederation Congress scheduled the first inauguration for March of 1789. However, due to strong winter conditions in the northeast, the event was postponed until April.
On April 14, 1789, General George Washington received word that he had been unanimously elected president, and soon began his journey north. As he traveled from Mount Vernon, Virginia, to New York, huge crowds of Americans greeted and cheered him along the way. President Washington arrived in New York on April 23, where he was greeted by Governor George Clinton and a large crowd; he was inaugurated on April 30.