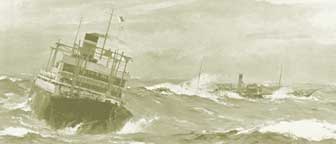 Flags were probably the earliest form of communication at sea. National flags have been flown to identify ships since the 16th century. By the late 18th century, a system of code flags had been developed, allowing complex messages to be signaled. Today's international code flag system includes 26 alphabetical letter flags, ten number pennants and three repeater pennants. Each letter flag has a meaning when flown individually, or they can be flown in hoists of two or three flags. Single flag hoists are most often seen today. While it is possible to spell out whole words with flags, this is almost never done.

Above: This painting depicts the 1926 rescue of the crew of the British freighter Antinoe by the U.S. Liner President Roosevelt during a fierce gale in the North Atlantic. The President Roosevelt stayed with the Antinoe for 85 hours, flying the code flags "A" over "I" - "I am standing by to assist." The crew were finally taken off by lifeboat. Two of the Roosevelt's seamen died in the rescue attempt. Courtesy S.F. Marine Exchange.


Code flags in use. A drawing by Gordon Grant shows seamen aboard the ship Star of Alaska, preparing to raise a flag hoist during a voyage in 1925.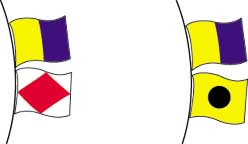 A Signal and a Reply:
KF -"I require a tug."
KI -"There are no tugs available."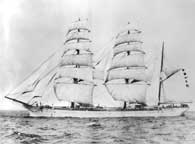 The bark Lord Templetown, under sail off Cape Flattery, displays her signal letters, KGJP, under her Canadian ensign from the mizzen. Every vessel had its own four-letter code. The Lord Templetown was built at Belfast, Northern Ireland, in 1886 and for many years sailed out of Victoria, B.C. Photo SFMNHP, J7.20,458n.