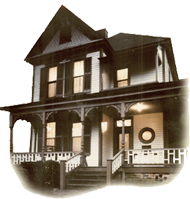 Martin Luther King, Jr. Virtual Birthhome Tour
501 Auburn Avenue
Martin Luther King, Jr., was born in Atlanta in 1929 in the Sweet Auburn community, the thriving African-American hub of Atlanta. He grew up in a multi-generational family at 501 Auburn Avenue. During his twelve years here, young Martin was nurtured by his family, church, and neighborhood. His was a typical childhood in many ways: days were filled with school and church activities, family gatherings, and trips down Auburn Avenue to shop, go to the library, or buy a soda at the drug store.
We invite you to join us for a tour through a day in the life of the King family in 1939.

Click and move your mouse to look around the room.
Use the + or – controls to zoom in or out.