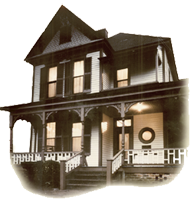 Martin Luther King, Jr. Virtual Birthhome Tour
Front Porch
Martin lived in this house with his Father, Martin Luther King, Sr., he was also known as "Daddy King"; his Mother, Alberta Williams King, friends and neighbors called her "Mama King", the family called her Mother Dear; his Grandmother, Jennie Celeste Williams; his Great Aunt Ida, Grandmother Williams' sister; his Sister, Willie Christine, known as Christine; and his younger brother, Alfred Daniel, also known as A.D.
Martin's maternal grandparents, Adam Daniel and Jennie Williams, bought the house in 1909 when Alberta King was five years old. She grew up in this house and later spent the first years of her married life here. It is a house of many memories.

Click and move your mouse to look around the room.
Use the + or – controls to zoom in or out.