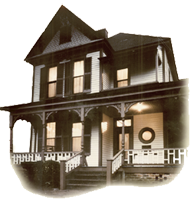 Martin Luther King, Jr. Virtual Birthhome Tour
Parent's Bedroom
By the time the children woke up, Mama and Daddy King were already out of bed and had begun their morning activities. All three of the children were born in this room. Christine was born in 1927 and spent the first nights of her life in a chifforobe drawer. She arrived early and the family didn't have a baby crib yet.
Daddy King liked to tell the story of M.L.'s birth. He paced the hallway outside the bedroom while Mama King was in labor. When he learned of the birth of his first son at noon, he was so happy he jumped up and touched the ten-foot high ceiling. Daddy King was about five-foot six inches tall. The youngest of the King children, A.D., was born in 1930.

Click and move your mouse to look around the room.
Use the + or – controls to zoom in or out.