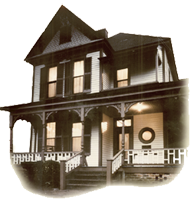 Martin Luther King, Jr. Virtual Birthhome Tour
Second Floor Hallway
Even the hallway became a bedroom for overnight guests. "Putting folks up" was typical because segregation made it difficult for African Americans to get public accommodations like hotel rooms and restaurants. The family opened their home to friends and relatives who had come to Atlanta looking for work or to attend school. Often the children slept in the hallway to allow special guests to use their rooms.

Click and move your mouse to look around the room.
Use the + or – controls to zoom in or out.