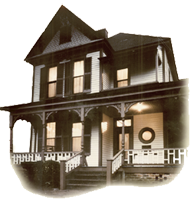 Martin Luther King, Jr. Virtual Birthhome Tour
Parlor
The children would practice playing the piano in the parlor after their homework was done. Piano lessons were not one of their favorite activities, especially after they got a music teacher who would rap their knuckles if they hit a wrong note.

A.D. became so frustrated that he slipped into the parlor one night and tried to break the piano by pounding the keys with a hammer.

The King family enjoyed music. They loved Sunday night family sing-alongs with Mama King playing the piano and leading the hymn singing. They also liked listening to 78 rpm vinyl records on the Victrola, especially gospel and other religious music.

Click and move your mouse to look around the room.
Use the + or – controls to zoom in or out.