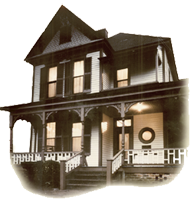 Martin Luther King, Jr. Virtual Birthhome Tour
Dining Room
The King family had a formal dinner together every night. Daddy King insisted that dinner not start until he got home, no matter how late. As dinner time approached, the children would peek out the window looking for their father coming up the street.
Once he arrived home from Ebenezer Baptist Church, family members and house guests gathered around the dining room table. The children recited a Bible verse before eating. The boys were always anxious to eat, so their verse was often the shortest one in the Bible – "Jesus wept."
Daddy King wanted to learn what his children had done during the day. Lively discussions took place during the meal. This was the time when the adults would correct the children's grammar and encourage them to speak properly. The children talked about happenings at school and the adults talked about events at the church, in the community, and around the world. Everyone participated in the discussions, asked questions, and gave their opinions, even the three children.

Click and move your mouse to look around the room.
Use the + or – controls to zoom in or out.