1809
LIFE OF LINCOLN
1865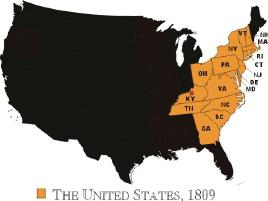 Abraham Lincoln was born on February 12, 1809 near Hodgenville Kentucky, in a one room log cabin. It had a dirt floor and no glass windows.

Lincoln was the second of three children born to Thomas and Nancy Hanks Lincoln. Lincoln's older sister, Sarah, was born in 1807 and his younger brother, Thomas, who died in infancy, was born in 1812.

Abraham Lincoln was the first president born in a log cabin, and the first born outside the original thirteen states.


______________________________
| Back to Beginning of Life of Lincoln |
| Back to Lincoln Home History and Culture Page |
| Back to Lincoln Home Home Page |