Who You Are:
Trail Worker
Return to Find Your Calling Menu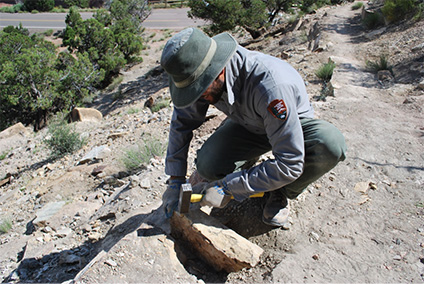 Education
You need no experience or degree if you are applying for an entry level job. A valid driver's license, ability to pass a drug test, and some experience are necessary for higher level jobs.
You would be a great trail worker if you:
enjoy the satisfaction of physical work, as well as team work
have a love of the outdoors
are passionate about and physically able to work in challenging conditions, at various altitudes
have experience and willingness to learn how to use hand and power tools
What You Do
Trail workers maintain the overall trail system in the park. This is a very physical job that requires lifting, carrying, and using hand and power tools. Heavy exertion is required to carry and roll rocks and logs, to move rocks of several tons with rock bars, and to use hammers to crush or shape rock, etc. Other tasks include digging out drainage structures filled with silt and debris, replacing tread (the surface material that is walked on), fixing and installing signs, and repairing walls or bridges. Trail workers may get to actually make a new trail!
Also, they may be required to lift up to 75 pounds, and to walk up to 20 miles a day carrying supplies and equipment.