Who You Are:
Interpretive Park Ranger
Return to Find Your Calling Menu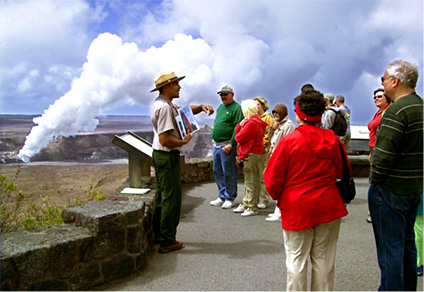 Education
A four-year degree in any field is preferred. Students in the process of receiving their four-year degree may work as a student intern through the Student Conservation Association or the Pathways program. A background in education is very helpful for this type of job.
You would be a great interpretive park ranger if you:
enjoy people
have excellent customer service skills
are a solid leader as you will be leading education and community groups on walks and talks
are interested and knowledgeable of the history, archeology, biology, and ecology of the park
What You Do
Interpreters link the park to the people. They provide meaningful emotional and intellectual connections to the park's natural and cultural resources. Rangers provide visitors with park maps and vacation information. They might tell visitors how to find areas to camp, hike, fish, and boat. Interpretive park rangers design, plan, and lead guided walks pointing out wildlife, history, and geology of the park. They are also familiar with all of the information in the exhibit halls. They may teach school children visiting the park or in classrooms.