Who You Are:
Backcountry Ranger
Return to Find Your Calling Menu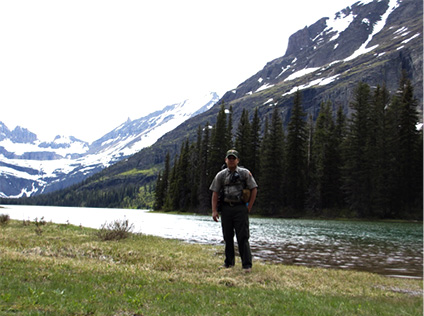 Education
An emergency medical technician (EMT) or Wilderness EMT is often required for most positions. Current CPR is also required for this position.
You would be a great backcountry ranger if you:
have a love of the outdoors with many wilderness skills such as pitching camp, starting fires, tying knots, and navigating by compass and topographic map
are comfortable alone in the wilderness for several days at a time with radio contact to headquarters
are resourceful
have great people skills in working with a diverse population of visitors
are calm and able to solve problems during emergencies
What You Do
Backcountry rangers patrol trails and cross-country routes in the wilderness to check on resource impacts such as illegal fire rings, visitor permits, or trail status. They respond to injured and sick hikers. Also, they conduct search and rescues and coordinate medical evacuation of patients on foot or helicopter if required. These rangers might perform maintenance of wilderness structures such as footbridges. Often, they are on duty for 10 days at a time, then off for 4 days. These rangers must also be very physically fit, able to hike up to 15 miles a day or more with a pack on. Sometimes packs may weigh 65 pounds. Wilderness skills are essential prior to obtaining a job.