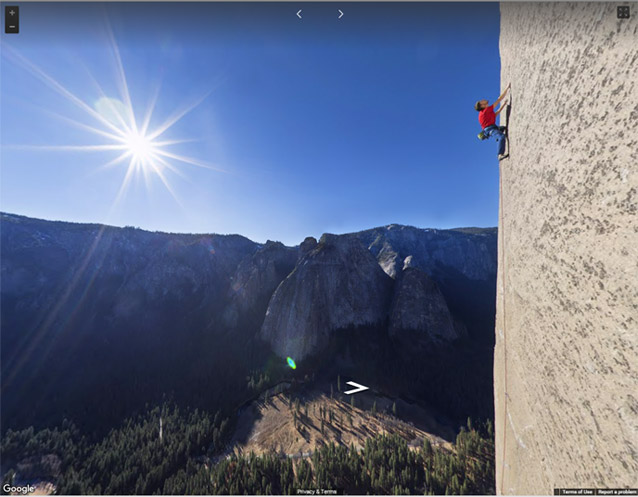 Yosemite National Park and Google Maps have partnered on a groundbreaking project that uses cutting-edge technology to allow visitors to explore the park's iconic features. This program allows people to explore Yosemite's features, learn about the history and geology of the park, and experience first-hand what it is like to rock climb and explore the beauty of the park. The first installment, "El Capitan Street View," was released in June of this year. In mid-October Google Maps launched Street View imagery of the Mariposa Grove of Giant Sequoias, Mirror Lake, Bridalveil Fall, and many other popular destinations. 
El Capitan is one of the world's largest granite monoliths and attracts rock climbers from around the globe to climb one of the many rock climbing routes which soar 3,000 feet above Yosemite Valley. Street View allows people to have a first person view of climbing El Capitan using state-of-the-art video and still photography. Additionally, the Street View includes interviews and explanations from world-renowned rock climbers such as Lynn Hill, Tommy Caldwell, and Alex Honnold. Also featured in Street View are park geologists, wildlife biologists and other staff who share their knowledgeable and experience about the natural and cultural features of El Capitan and Yosemite National Park.
The Street View imagery of the Mariposa Grove of Giant Sequoias gives a virtual tour of the famed trees featured in the largest grove of Giant Sequoias in Yosemite National Park. The Mariposa Grove of Giant Sequoias is currently closed for a major restoration project. Therefore, this Street View allows people to "visit" the Mariposa Grove and experience the grandeur of these magnificent trees. Also premiering today are street views of Mirror Lake, Bridalveil Fall, El Capitan Meadow, the Valley Loop, and many others. 
"Following the epic release of our first ever vertical Street View imagery up the rock face of El Capitanthis past summer, we're thrilled to continue our partnership with Yosemite National Park to publish still more imagery of some of the most scenic and awe-inspiring locations the park has to offer," said Deanna Yick, Google Street View Program Manager. "From Bridelveil Falls to Mariposa Grove to El Capitan Meadow and more, we hope nature-lovers around the world will enjoy previewing the beauty of Yosemite before their next trip in person."
So no you can visit Yosemite from your home...or your school - whenever you want to!
Google Maps' latest Street View additions of Yosemite National Park:

http://www.google.com/maps/streetview/#us-parks-trails-and-beaches