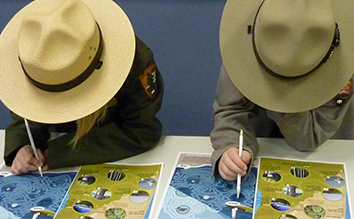 Did you know that sand dunes move? or that sailors sent messages with flags? Grab a copy of our Junior Ranger Book, and through activities, games, and puzzles, you can learn all this and more.
Required activities include attending a ranger-led program (or creating your own), doing a service project (picking up trash, recycling, or a project of your own), and completing activities that encourage direct experience and discovery learning in different park environments. You can earn a badge, a patch, and a certificate. It's fun for the whole family!
The Junior Ranger program is a fun way to learn about Sleeping Bear Dunes National Lakeshore and about how you can help protect the park; just like our park rangers!
And check out becoming a Web Ranger too!