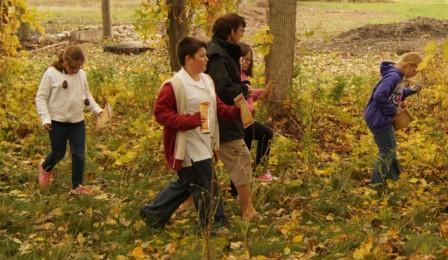 "Where it Happened on the Geocache Trail" will take you through a journey throughout the sacred grounds of the Battlefield where you will discover what happened over 200 years ago!
A geocache (pronounced "geo-cash") is a hidden treasure that you locate by using a GPS device.  Unlike conventional geocaching however, with our activity you do not take or replace anything.  You search for ten artifacts using a GPS unit that the park will provide and record the coordinate's once you find the artifact, you will then enter them into your GPS unit to find the next one and so on.  You can also earn your Junior Ranger badge by completing this and one other activity. Major fun for the whole family!
The Battles of the River Raisin occurred in January 1813 and resulted in the largest number of United States combat fatalities in any single battle during the War of 1812.  Major General William Henry Harrison, who later became President of the United States, declared the Battles of the River Raisin a "National Calamity".  One of America's very first battle cries, "Remember the Raisin", originated from this terrible defeat inflicted by the British and Native American forces.