Flamingo Campground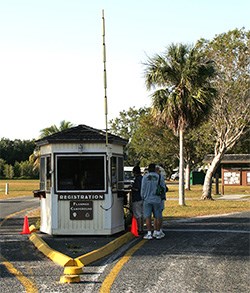 Camping is available year-round! Reservations can be made for the Flamingo Campground through ReserveAmerica ReserveAmerica or call 1-877-444-6777 (International 518-885-3639) from November 20th - April 15th during the high season. No reservations needed during off-season months between April 16 - Nov.19. During the summer wet season, portions of the campgrounds are closed due to flooding.
Reservations are accepted for the 234 drive-up sites at Flamingo, which are $20/night for campsites with no electric hookups. Electric hookups are available on 41 sites in the T-loops and run $30/night.
Out of the 234 drive-up sites, 55 of them have a view of the Florida Bay and 40 walk-in sites of which 9 are on waters edge. There are 3 walk-in group sites (for a max. of 15 people) on the waters edge and 65 RV sites.
During high season - 50% of the sites are held to accommodate those without reservations on a first come first serve basis. If you'd like to confirm one of these sites are available as the online reservations are full you can call the Flamingo fee station at 239-695-0124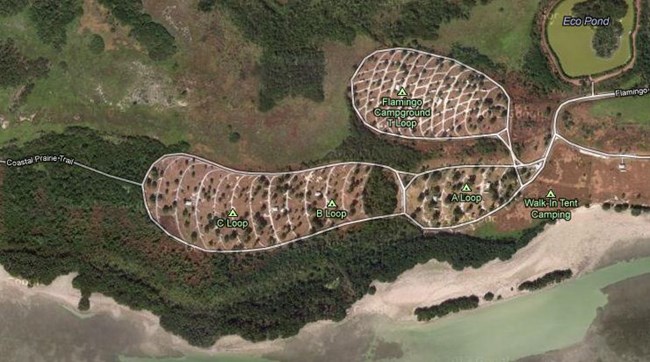 FEES: There is an entrance fee to get into the park not included in these camping fees

RV SITES: Camping fees at the 41 sites in T-Loop in Flamingo with electrical hookup are $30.00 a night per site or $15.00 per site for Senior and Access pass holders. (This fee applies to anyone using these sites, regardless of whether they use electric or not.)

INDIVIDUAL: Campsite nightly fees $20.00 ($10.00 for senior citizen 62 or over and for access pass holders (permanently disabled).

GROUP SITES: For up to 15 people $30.00 per night
NOTE - Electric sites are not available on a walk up basis during high season. Reserve through the online reservation system.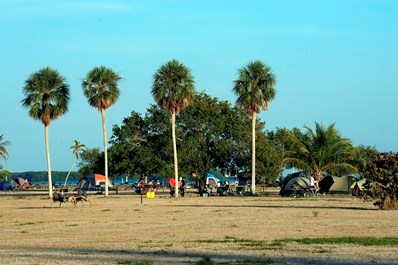 AMENITIES AND ACTIVITIES:
The Flamingo campground is in a big open field with few trees and strong breezes can be felt from winds coming from Florida Bay. The campgrounds features solar-heated showers, two dump stations, picnic tables, grills, and an amphitheater for winter programs.
Flamingo has several hiking trails and canoe trails, and opportunities for saltwater fishing are plentiful. More than 300 species of birds spend the winter in Everglades National Park, and there is ample opportunity to see crocodiles and manatees in the marina area where you can find services, boat rentals, tour boats and the Buttonwood Cafe.
Bring your kayak or canoe to explore backcountry trails, and small motorboats (5 HP and under) are allowed in many areas.
DIRECTIONS:
The Flamingo Campground is located 38 miles south after you go through the fee booth at the main park entrance in Homestead.
Flamingo area map
Flamingo campground map
Flamingo campground regulations


Last updated: February 16, 2018