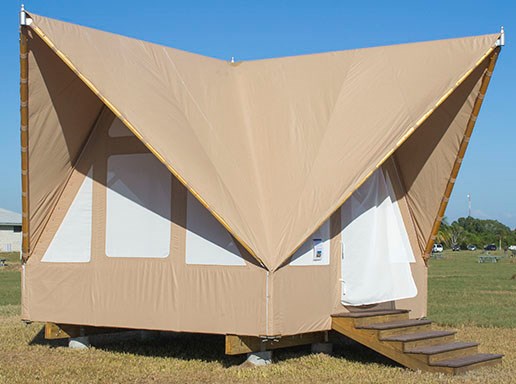 The tent sits on a 14' x 14' wooden platform, and is designed to take advantage of the breezes coming off of Florida Bay and efficiently move warm air out of the tent. It is currently furnished with bed frames, a table, and chairs (a solar-powered light will be installed in January). Reservations are now being taken by phone (call 239-695-0124 between 6 AM and 6 PM each day) or at the Flamingo Campground registration booth.
The current nightly fee is $16.00. The fee will increase to $30.00 when the LED light system is installed later this season. For holders of Senior or Golden Access passes
fees are reduced by 50%.
The Eco-Tent is a potential way to provide a cost-effective lodging option for visitors that
recognizes the site's vulnerabilities to sea level rise, and avoids potential damage related to storm surge and hurricanes (as the unit will be packed and stored during hurricane season). This pilot project is being managed with the intent of getting many parties to stay in the tent in the next four months and having visitors provide constructive feedback through a survey related to Eco-Tent design, function, and amenities. The park is interested in learning what visitors like about the tent and how it might be improved, should additional units be built in the future. In 2013 a new, long-term concessions contract is expected to be awarded and different visitor lodging options may be included.