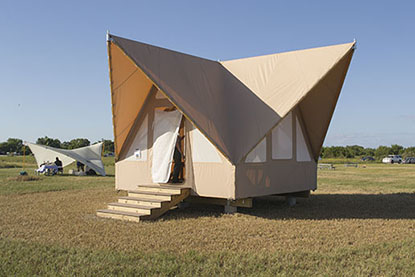 News Release Date:
December 13, 2012
Contact: Mary Plumb, 305-242-7714
Contact: Fred Herling, 305-242-7704
A ribbon cutting event is planned for next Wednesday, December 19 at 11:00 a.m. for a new, potential type of lodging at the park - the Flamingo "Eco-Tent." Everglades National Park has partnered with the University of Miami and the South Florida National Parks Trust to develop this prototype structure, an important step in the effort to rebuild Flamingo in a sustainable manner. The Eco-Tent could be a model for additional lodging options at Flamingo in the near future.
According to Everglades National Park Superintendent Dan Kimball, "The Eco-Tent as a visitor lodging option available during the peak winter/spring season, is an innovative approach to meeting several needs at Flamingo, including cost effectiveness, recognition of the vulnerabilities of sea level rise, and avoiding potential damage related to storm surge and hurricanes. (The unit will be packed and stored during hurricane season). Through the generous support of the South Florida National Parks Trust, the University of Miami - School of Architecture, has designed and built the prototype Eco-Tent to meet the unique opportunities and challenges at Flamingo. The Eco-Tent offers visitors a way to spend more time experiencing the park and less time driving."
This prototype will be available for use December 14 through April 14. It is located in the walk-in area of the Flamingo Campground, and consists of a fabric tent mounted on a 14' x 14' wooden platform, and is designed to take advantage of the breezes coming off of Florida Bay and efficiently move warm air out of the tent. It is currently furnished with bed frames, a table, and chairs (a solar-powered light will be installed in January). Reservations are now being taken by phone (call 239-695-0124 between 6:00 a.m. and 6 p.m. each day) or at the Flamingo Campground registration booth. The current nightly fee is $16.00. The fee will increase to $30.00 when the LED light system is installed later this season. For holders of Senior or Golden Access passes fees are reduced by 50%.
According to Everglades National Park Senior Planner Fred Herling, "The Park will be managing this pilot Eco-Tent with the intent of getting many parties to stay in the tent (that's why the maximum stay is 3 nights) and provide constructive feedback through a survey we've developed. Each group will provide their views related to the Eco-Tent design, function, and amenities and tell us what they liked and how the tent might be improved, should additional units be built in the future. This will help the long-term vision for Flamingo, which includes having a new, long-term concessions contract in place a year from now. That concession Request for Proposal (or "prospectus") is scheduled to go out in January and different lodging visitor lodging options may be part of that effort."
For more information on the Flamingo Eco-Tent go to the park's website:www.nps.gov/ever.