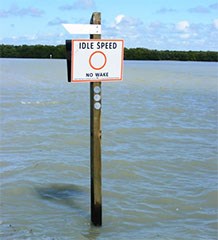 Installation of new access corridor markers and signs in Florida Bay is almost complete!
All corridors have now been marked, with only a few minor adjustments pending.
On-plane: Dave Foy, Dump Keys (south of existing channel), Madeira Bay, Terrapin Bay, Roscoe Key, North Jimmy, Bob Allen Pass, Coon Key Pass, Crab Lake, Peterson Keys, Buchanan Keys
Idle-speed: Snake Bight East (off Snake Bight Channel), Porpoise Point, Garfield Bight, Rankin Bight, Santini Bight West, Santini Bight East, Terrapin Bay West (off Terrapin Bay corridor), Samphire Key, Brush Key, Twisty Mile, Little Blackwater, Little Buttonwood, Cluett Key, Topsy Key, Sid Key, Tarpon Basin/Marker 42 Creek
Slow-speed: Nine-mile Bank North, Nine-mile Bank South
On-plane and idle-speed: Frank Key (north segment on-plane, south segment idle-speed), Palm Key (from west end of Tin Can Channel on-plane, near island and to center of Tin Can Channel idle-speed)
For details, visit
Florida Bay map book
and the Florida Bay Boating Routes and Zones web map below.