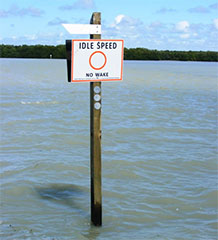 Everglades National Park has begun an important new project to install access corridor markers and signs in Florida Bay. The project is one of the priority projects approved in the park's 2015 General Management Plan (GMP) to better protect resources and to enhance visitor access and enjoyment.
Work on 12 of the 31 new Florida Bay corridors, mostly in the Flamingo area, has been completed (listed below and identified in blue and purple on the
Channel Marking Status web map
. Work is likely to continue through April. Corridors completed:
On-plane: Dave Foy, Dump Keys (south of existing channel), Madeira Bay, Terrapin Bay
Idle-speed: Snake Bight East (off Snake Bight Channel), Porpoise Point, Garfield Bight, Rankin Bight, Santini Bight (east and west), Terrapin West (off Terrapin Bay corridor)
On-plane and idle-speed: Frank Key (north segment on-plane, south segment idle-speed).
Additional details regarding boating and visitor use are available on the Florida Bay Boating Routes and Zones web map (
see interactive Map below
)
and
map book
.