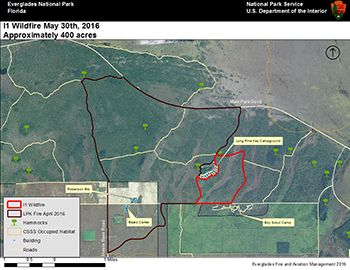 A lightning-caused fire started on Sunday, May 29 around 2 p.m. in Pine Block 11, east of the Long Pine Key campground. Fire Operations on the I1 wildfire were successful on May 30 in keeping fire out of adjacent pine blocks and establishing a black line around the perimeter of Block I1. The wildfire is currently 400 acres and is 80% contained.
On Tuesday, May 31, the Fire Management crew will continue to patrol the fire perimeter and mop up the edges. A recon flight of the park will take place as a majority of the park received heavy lightning Monday afternoon. On Thursday, June 2, Everglades National Park Fire Management team opened Long Pine Key road and day use area.
Current closures:
Long Pine Key Campground (closed for the summer season, reopens November 15); trails within the l1 fire area and south of the campground.