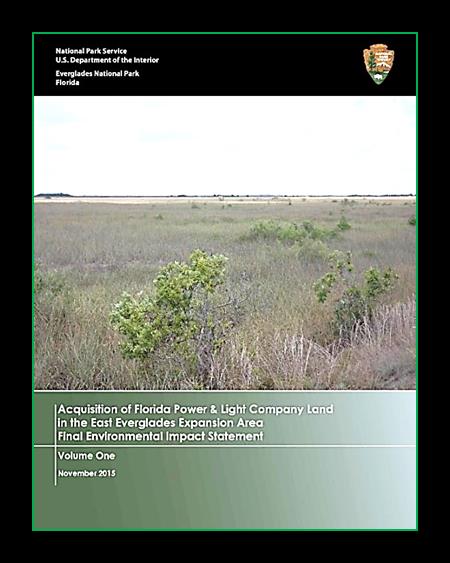 On March 16, 2016, NPS Southeast Regional Director Stan Austin signed a Record of Decision (ROD) for the acquisition of Florida Power and Light Company (FPL) Land in the East Everglades Expansion Area of the park. Acquisition of the FPL parcel is needed in order to raise water levels in the Expansion Area, a critical component of long-term Everglades Restoration.
The NPS decision is to acquire fee title to the 320-acre FPL property through an exchange for 260 acres of park property along the east boundary as authorized by Congress in 2009 (P.L. 111-11).
The Final Environmental Impact Statement (EIS) for the land acquisition was released for public review in 2015.
A formal land exchange agreement was executed by the NPS and FPL on March 21, 2016. The agreement provides that the exchange shall be closed within 240 days of the effective date of the agreement, setting the target completion date at or near November 14, 2016.To review or download the ROD or Final EIS, visit the Planning, Environment and Public Comment (PEPC), click here.