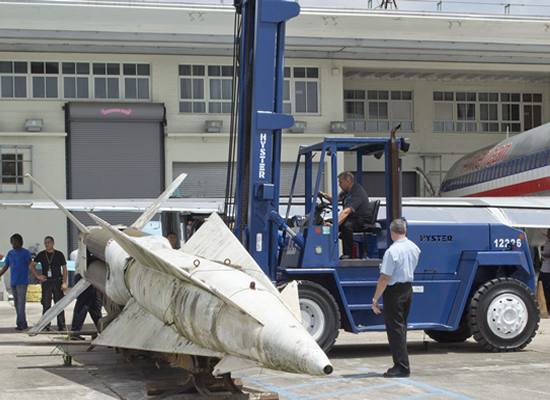 Through multiple partnerships and over two years of work Everglades National Park will soon see the return of a Nike Hercules Missile to Alpha Battery, a historic U.S. Army missile site within the park.
Through a partnership with the Miami-Dade School system and Principal Dr. Sean Gallagan, students at the George T. Baker Aviation School will work to restore this piece of American history before it returns to the park for display. These photos show the unloading of the Nike Missile on August 23rd 2012 at the Aviation School. Students will also have a chance to meet Veterans whoworked with Nike missiles during events surrounding the 50th commemoration of the Cuban Missile Crisis this October 2012.
This winter visitors to Everglades National Park will get a glimpse of the five-ton, 40-foot missiles that were once the last line of protection from enemy aircraft.
Are you interested in supporting Nike Missile Site HM-69? We need asistance with site maintenance, equipment care and community involvement. We will host a meeting of interested people in the New Year, if you would like to be invited, please click here and leave your contact information!