Teacher Workshops
Everglades National Park is proud to employ team teaching for its education programs. In order to prepare teachers to assist with programming, teachers are required to attend a workshop prior to bringing their students on a ranger-guided program.

Teacher workshops for Shark Valley Tram and Royal Palm Day Programs are being offered:
Friday, October 29, 2021
and
Friday, January 21, 2022

Workshops for Loop Road and Hidden Lake Camp programs are being offered:
Saturday & Sunday, December 11 & 12, 2021

Please contact us to register or for more information about teacher workshops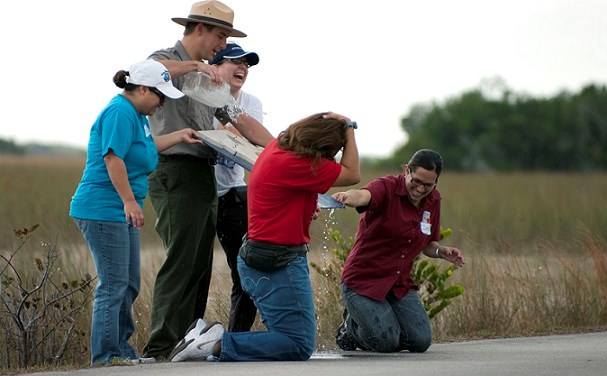 Workshops familiarize new teachers with program opportunities, logistics, and safety considerations.
Park staff provide background knowledge and demonstrate activities that can be done in the classroom.
The park works with Miami-Dade County Public Schools to provide professional development credit and can verify participation for teachers from other counties.
Workshops are typically scheduled on Miami-Dade teacher work days or on weekends.
You will sign up for the workshop when registering your class for a ranger-led program.
Teachers are welcome to attend workships even if they are not planning on bringing students to the park this year. To register for a workshop without a scheduled program, e-mail us with your name, school, grade level, phone number, and the workshop you wish to attend.




Last updated: August 13, 2021