Lesson Plan
"What is a Slough?"                Habitat Video: The Slough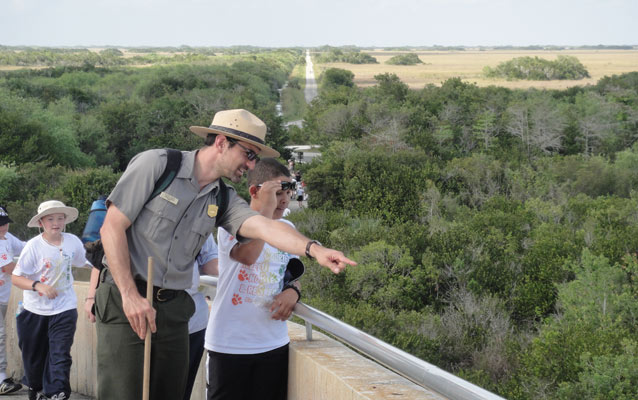 Grade Level:

Pre-Kindergarten-First Grade

Subject:

Aquatic Studies, Biodiversity, Biology: Animals, Biology: Plants, Botany, Ecology

Duration:

45 mins

Group Size:

Up to 36

Setting:

indoors or outdoors

National/State Standards:

Next Generation Sunshine State Standards:
SC.912.L.17.3
SC.912.L.17.4
SC.912.L.17.9


Keywords:

habitats, slough, Everglades
Overview
The students will show & tell about the animals that live in the freshwater slough habitat of Everglades National Park. The students will be able to explain the food chain in the freshwater slough habitat.
Objective(s)
Discuss food chains, explain that we will be creating a food chain with chosen animals and plants from the Everglades ecosystem.
Procedure
First packets are handed out, students guess what plants and animals live in the slough.Then watch the video of the slough habitat, identifying the correct plants and animals in the packets. Finally, cut & paste the pictures to make a food web.
Additional Resources
Watch the "Slough" episode
https://www.nps.gov/ever/photosmultimedia/mountainsandvalleys.htm
Vocabulary
Slough, drought, wet season, refuge,
producers, consumers, decomposers
Last updated: April 14, 2015