Field Trips
Everglades: Self Guided Field Trips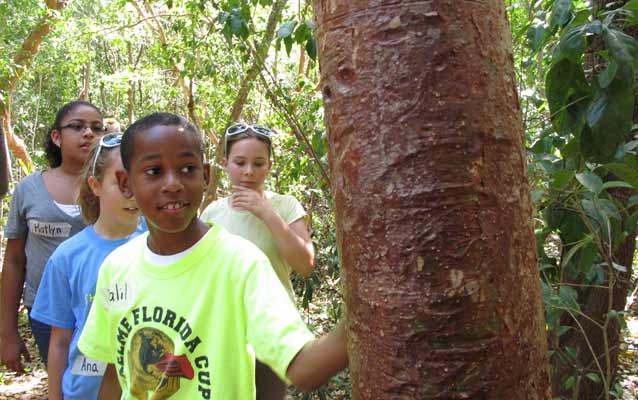 Description
Schools, clubs, social groups, youth organisations, and faith-based groups all enjoy field trips to the Everglades. "D.I.Y" field trips are an easy way to have your group experience the Evergaldes... no ranger necessary. Winter-time is the best for this.
There are many locations at the Everglades where an adult can safely lead their own field trip. Use our Plan Your Visit videos to help decide where you want to go on your field-trip. Use any of our curriculum-materials or educational Habitat Video series to prepare the students. We also have Field Trip planning guides for teachers... these will be helpful for leading your own field trip.
Finally, don't forget that educational groups can apply for a fee waiver to get into the park for free.
Royal Palm, or Shark Valley are the closest locations to Miami. Gulf Coast is close to Naples.
The following are some options you can do on your own:
Start at  the Ernest Coe Visitor Center ( 14-miles west of Homestead) and watch the park film "River of Life."(1 hour)
5-miles west of the main visitor center is Royal Palm. Here, the Anhinga Trail and Gumbo Limbo Trail as well as a bookstore, plenty of parking, restrooms, benches and shade, make a perfect place for a few hours. These two short boardwalk and paved trails get you right into the best part of wildlife viewing. In winter, there are birds, alligators, and fish galore.
Mahogany Hammock Trail - Stroll a 1/2-mile boardwalk through a subtropical tree island, which is home to immense mahogany trees. (30-45 minutes)
Pa-hay-okee Overlook Trail - A 1/4-mile boardwalk leads to an observation tower offering impressive views of the "River of Grass." (30 minutes)
Shark Valley Tram Tour. Halfway between Miami and Naples. Offers a narrated tram tour through the sawgrass prairie and includes a stop at a 65-foot tower where you can enjoy panoramic views of the Everglades. (2 hours/fees apply for tram) Click here for further information.
Flamingo Boat Tour - Sit back and enjoy a narrated boat tour through the Whitewater Bay backcountry north of Florida Bay.(1-2 hours/fees apply) Click here for further information.
Gulf Coast Boat Tour - Join a narrated boat tour of the Ten Thousand Islands departing from the Gulf Coast marina area.(1-2 hours/fees apply) Click here for further information.
Details
Subject:

Education, Environment

type:

Field Trips