Seminar Series for 75th Anniversary
Join us to learn more about the Everglades
The park and our partners are hosting monthly speakers to highlight current issues, progress, and good stewardship. We aim to record and share most of the seminars online at a later date.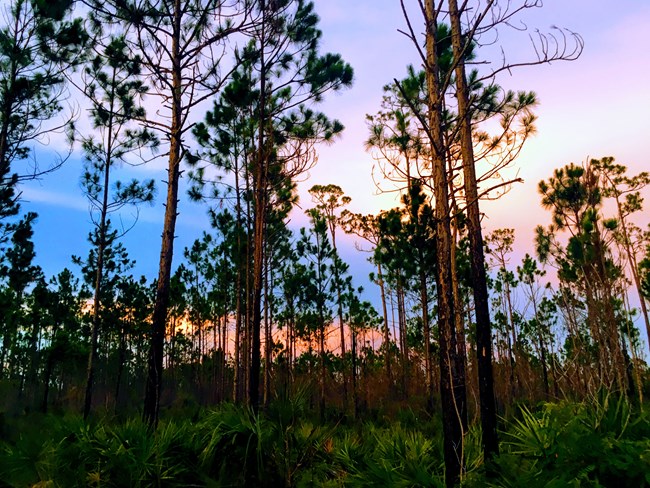 July 23, 2022 at 1:00 PM EST
Voices from Florida: Humans in the Everglades - Past and Present.
Presented by The Miami-Dade Public Library's Special Collections and Archives Division
Learn about the River of Grass and its history from an Everglades National Park ranger at Kendale Lakes Branch Library.
Schedule:
1:00 PM EST - Hands on activity
2:00 PM EST - Lecture
Location:
15205 SW 88 Street Miami, FL 33196

Contact Kendale Lakes Branch Library for more information.
(305) 388-0326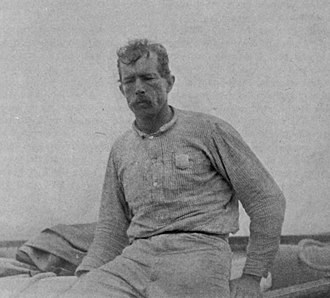 July 9, 2022 at 9:00 AM EST
Guy Bradley Anniversay Paddle
Join us for this special event as we paddle through history and commemorate the life of Guy Bradley and his legacy that helped promote the protection of Everglades bird species.

You will kayak the route that was Bradley's final paddle to Oyster Key as we talk about the effects of plume trade to the Everglades.

Important Information:
Paddle route is 7 miles long and will last about 5 hours.
Participants must be highly experienced kayakers.
This program is free of cost, donations are welcomed. Donations will go to support Florida National Parks Association.
Space is limited.
Where: Flamingo Marina next to the Flamingo Visitor Center

Reservations: For more information and to reserve your spot online, please visit www.EverNPI.org or call (786) 465-4058.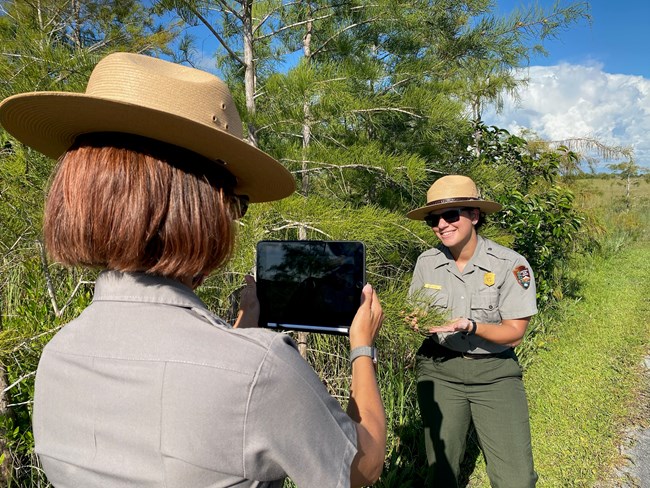 June 13, 2022 at 2:00 PM EST
Everglades * LIVE *: Join a Park Ranger on an Exploration of Habitats
In celebration of the park's 75th anniversary, the Everglades Education team is inviting children and families to join them on a live-streamed virtual program to explore habitats and watch for wildlife at Everglades National Park!
Habitats we will explore include:
Sawgrass Prairies (Flooded marshland with alligators, birds, fish, and other aquatic animals)
Pine Rocklands (Fire-dependent ecosystem that boasts many endangered plants and animals)
Hardwood Hammocks (The highest and driest habitat - former home to many Native Americans!)
You must register through this link to join.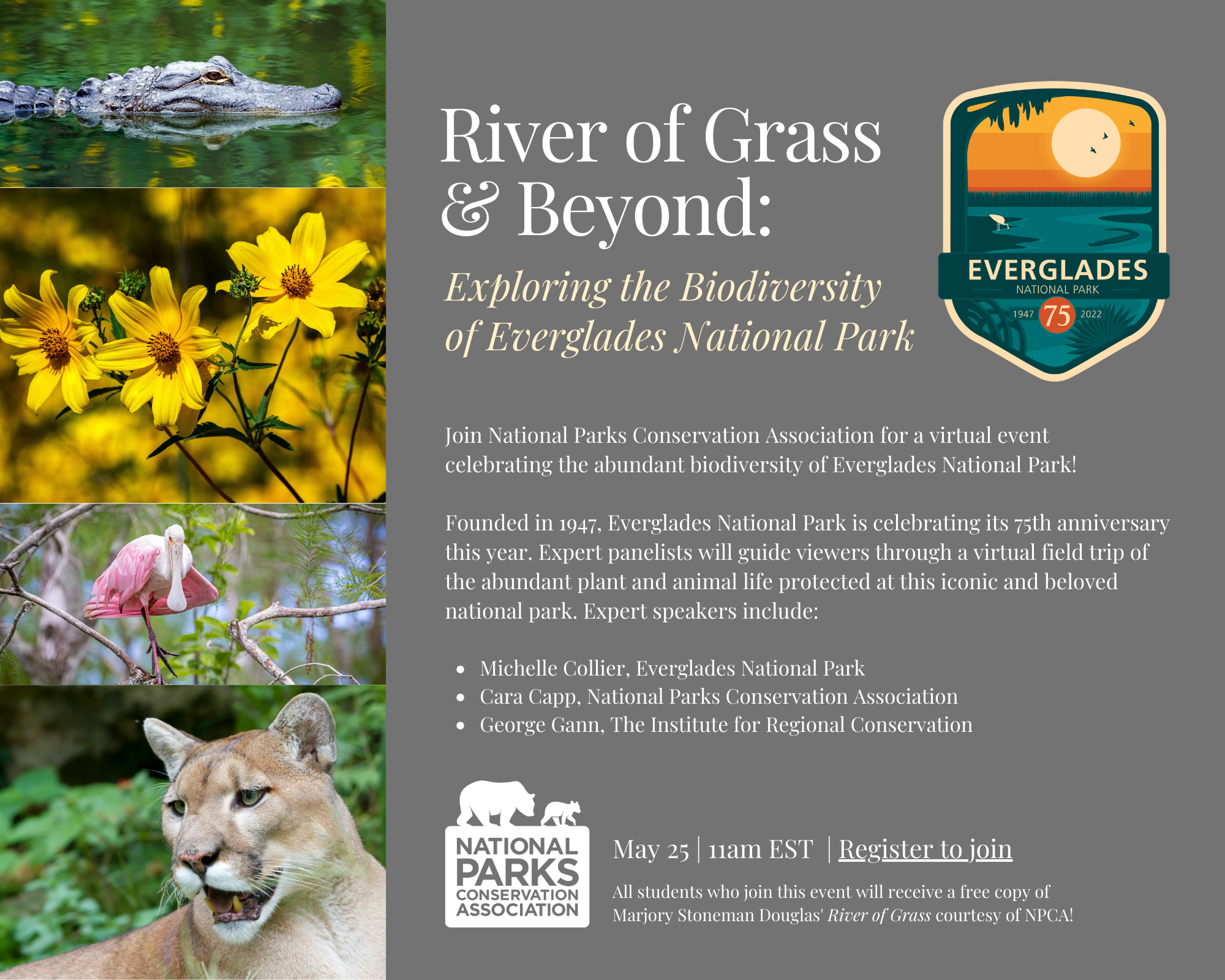 May 25, 2022 at 11:00 AM EST
River of Grass & Beyond: Exploring the Biodiversity of Everglades National Park
Join this virtual event for a virtual field trip of the abundant plant and animal life protected at this iconic and beloved national park.
Expert speakers include:
Michelle Collier, Everglades National Park,
Cara Capp, National Parks Conservation Association
George Gann, The Insitute for Regional Conservation
You must register to join.

This event is being organized and led by the National Parks Conservation Association (NPCA). All students who participate will receive a free copy of Marjory Stoneman Douglass' River of Grass courtest of NPCA!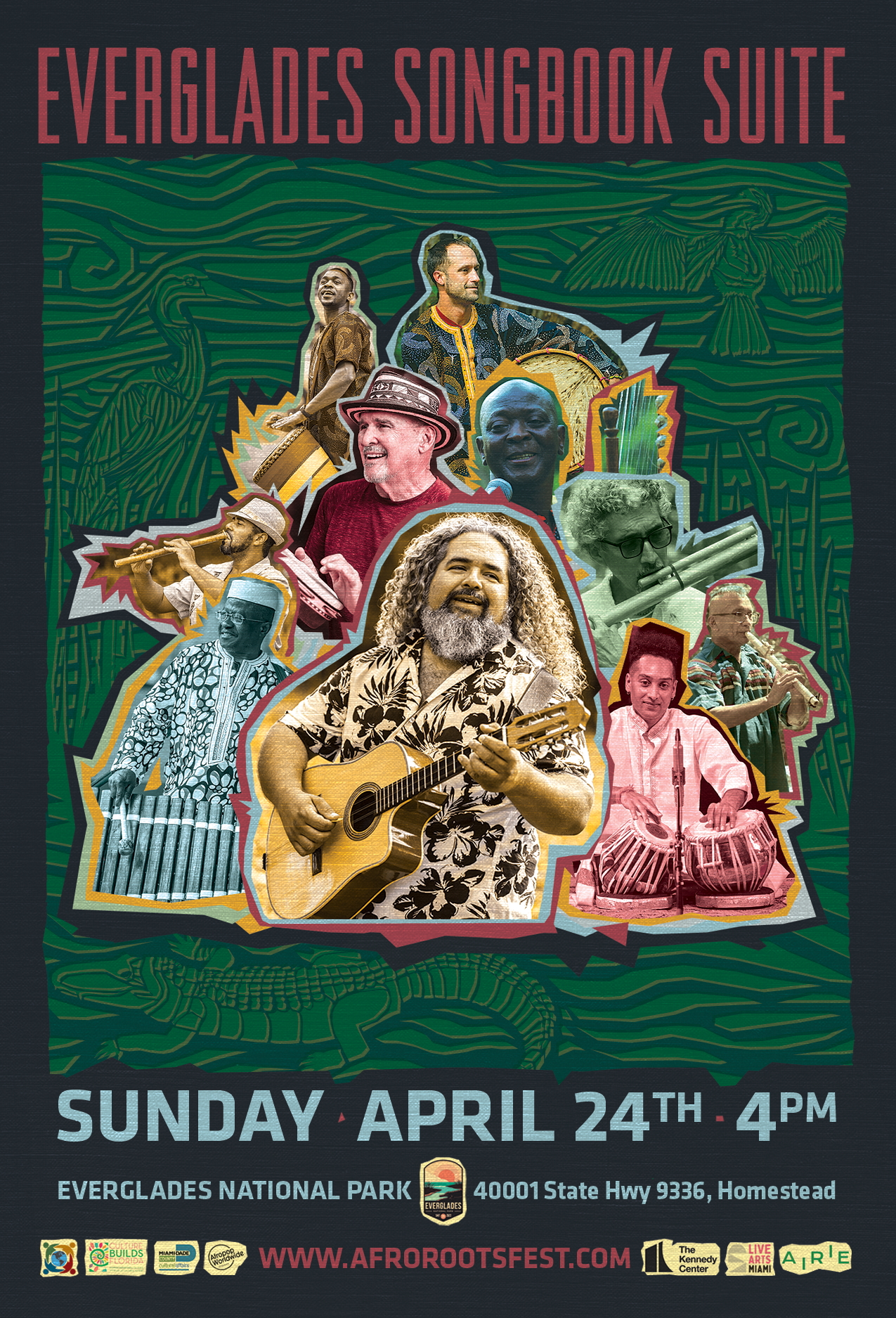 April 24, 2022 at 4:00 PM EST
Everglades Songbook Suite Performance at the Long Pine Key Amphitheater
Join us to see a performance by former Artist in Resident in Everglades (AIRIE) fellow Jose Elias, who created the Everglades Songbook Suite in 2016. Elias wrote the music for Everglades Songbook Suite after spending considerable time in the Everglades National Park, and the Songbook stands as the creative and artistic statement of his experiences there. The piece is a collection of compositions and soundscapes that celebrates the sights and sounds of the Florida Everglades by juxtaposing a stunning variety of acoustic instruments with field recordings.

Location:Everglades National Park, Long Pine Key Amphitheater, 40001 State Hwy 9336, Homestead, FL 33034

Parking: Parking is located at the Ernest F. Coe Visitor Center, guests can take trolley to Long Pine Key Amphitheater. Trolley will run to and from both locations from 2 – 6 p.m.

Tickets: This event is free with limited capacity. RSVP strongly encouraged at https://www.eventbrite.com/e/afro-roots-homestead-everglades-songbook-suite-tickets-312765398727. Please note that park entrance fees apply.

For more information, please visit CommunityArtsandCulture.org
March 27, 2022 from 12:30 to 3:00 PM EST
AIRIE Sundays in the Park presents Everglades as Connector, a conversation and performance at Royal Palm Visitors Center
Artists in Residence in Everglades (AIRIE) is pleased to announce the return of Sundays in the Park public programming. On Sunday, March 27, join environmental and public lands advocate Audrey Peterman, recipient of the Centennial Leadership Award 2022 from the National Parks Conservation Association, for her work diversifying the parks community, AIRIE 2022 Fellow Arsimmer McCoy, and music educator Portia Dunkley for a conversation exploring the theme of the Everglades as Connector. The discussion will examine ideas such as ancestry, belonging, community, and relationships in connection with the nature of the Everglades, and will be preceded by a performance by Arsimmer McCoy and Portia Dunkley.

Please RSVP to the event here.

Location: The talk takes place at the Royal Palm Visitors Center within Everglades National Park, park entrance fees apply.
For FREE access to Everglades National Park and AIRIE's Sundays in the Park, take the Homestead Trolley. Departing from Downtown Homestead, the FREE Homestead Trolley transports riders to Royal Palm Visitors Center waiving entry fees to the Park.
AIRIE suggests taking the 11:04am Homestead Trolley to Anhinga Trail and departing with the 3:17pm back to Downtown Homestead. For more information and to MAKE YOUR RESERVATION, visit https://www.cityofhomestead.com/357/Trolley-to-the-National-Parks

More info: AIRIE's Sundays in the Park is an event series in Everglades National Park designed to promote inclusion and access to the Park through artistic interpretations of the outdoor experience in the Everglades. Featuring the art and work of AIRIE Fellows, events include exhibitions, performances, and artist talks in and around Everglades National Park. Everglades as Connector is presented in collaboration with Everglades National Park 75th Anniversary Celebration and Community Partners of South Florida.
February 24, 2022
James Kushlan & Kirsten Hines
Coral Gables Museum
Sponsored by park partner the Florida National Parks Association.
The authors will share stories from their new book Images of America: Everglades National Park. Books will be available for purchase and signing by the authors.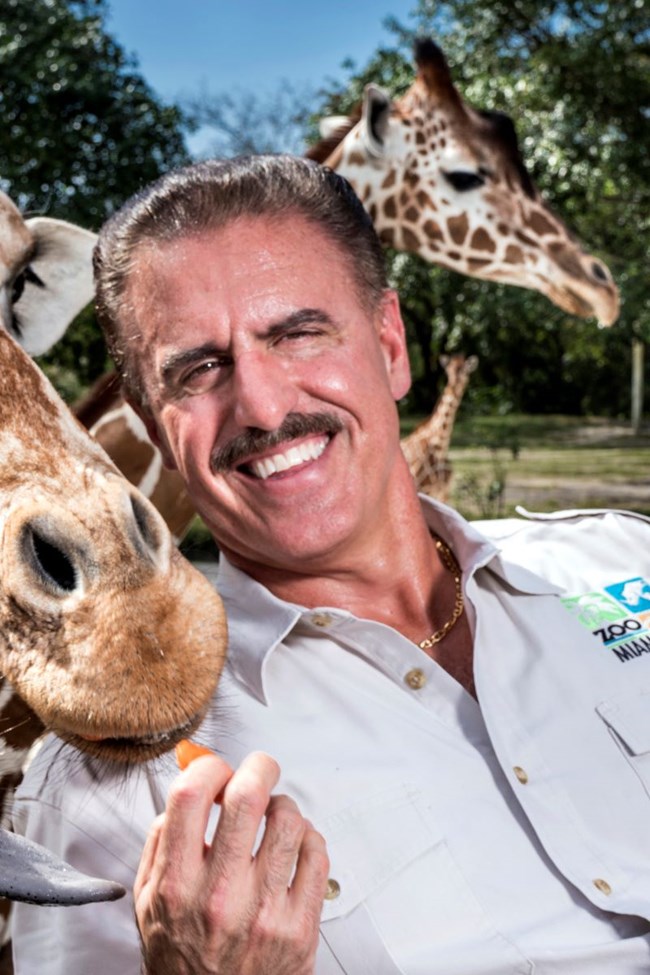 January 7, 2022
Ron Magill -
An Everglades Photographic Journey
7:30 p.m. Long Pine Key Amphitheater
Reservations Required - Call park at 305-242-7700 to reserve limited seating.
Ron has worked with wildlife for over 40 years. Learn how the Everglades wildlife is connected to our lives and hear about the Everglades' impact on Ron Magill's career and passion for wildlife conservation. Ron is the host of the national wildlife documentary program, "Mundo Salvaje con Ron Magill." As Zoo Miami's "Goodwill Ambassador," he has made frequent television appearances on many popular programs on both English and Spanish networks. In addition, he has written and produced many wildlife articles and award-winning photographs that have appeared in publications and galleries around the world. He has traveled extensively throughout Africa, Asia and Tropical America while developing and directing conservation projects and Emmy-Award winning documentaries focusing on the wildlife of those regions.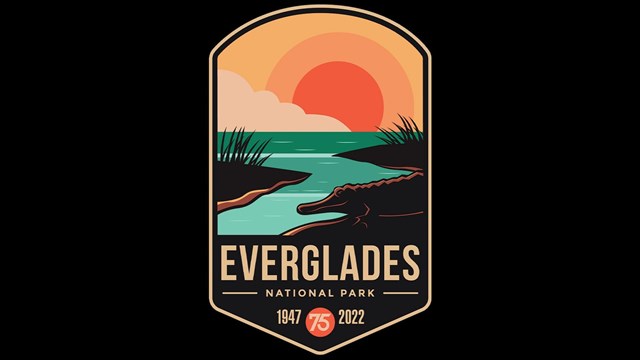 75th Anniversary of Everglades NP
Learn more about how the park is celebrating it's 75th anniversary throughout 2022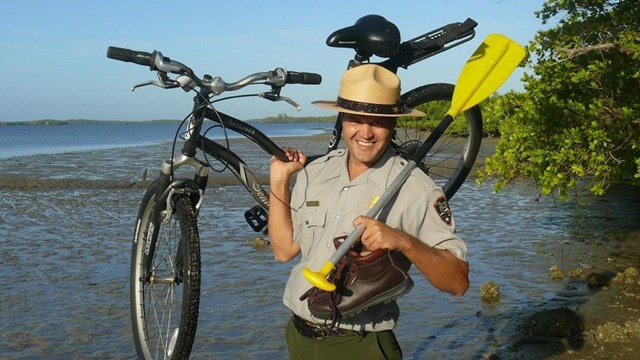 Everglades Iron Ranger Challenge
Celebrate the park's anniversary by logging your own 75 miles of physical activity. Earn a certificate and patch.
Last updated: July 20, 2022