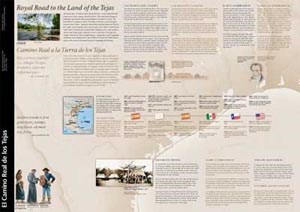 Royal Road to the Land of the Tejas
Vast open skies. Swollen streams and great rivers. Lush rolling hills and deep forests. Dark swamps and hot deserts. This varied and expansive landscape was home to American Indians for hundreds of years. The land offered no apparent riches, but Spain was intent on protecting its territory from France. Spaniards claimed this land and named it Tejas for the Caddo word meaning friend. Missionaries and soldiers traveled timeworn routes, built missions and presidios (military posts), and opened a camino real (royal road), a vital artery across the heart of the land.
El Camino Real de los Tejas brought change—exploration, trade, migration, settlement, war, independence, and statehood. It fostered cultural interactions and created a distinctive mosaic of language and lifeways.
The National Park Service El Camino Real de los Tejas brochure provides a map and information about the trail. You can download the
text side
or the
map
.
Email us
to receive a printed copy.