STEM and Distance Learning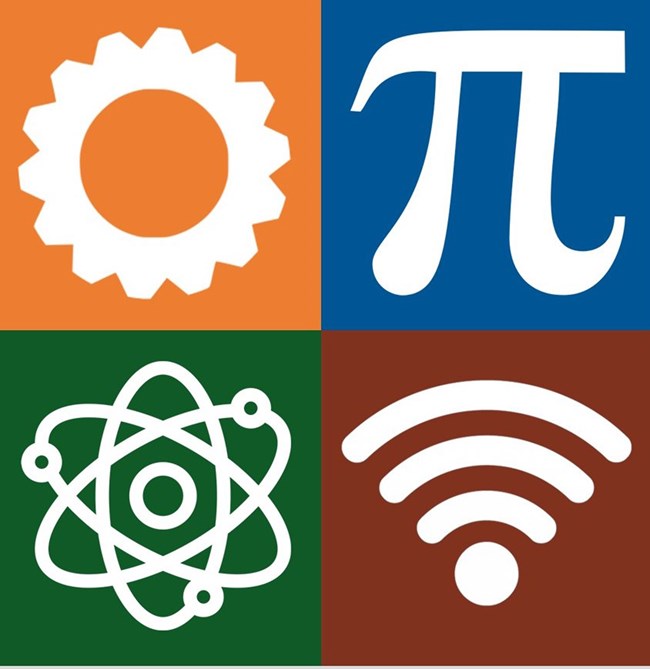 Bring the Park to your classroom
Help your students explore the parks by diving into curriculum with our Science, Technology, Engineering, and Math programming. The lessons are tied to Next Gen standards and gives the students opportunities to explore in their way within the framework. We also can help come into your classroom virtually, with lessons offered asynchronously or in real-time.
Need to make a reservation?
Telephone: Mike Autenrieth at 845-444-9167 (Sunday - Thursday)
email: michael_autenrieth@nps.gov
Reservations must be made at least 2 weeks in advance.


Curriculum-based Programs

Grades K-5: STEM programs for Eleanor Roosevelt NHS: Using Val-Kill as the backdrop, students can make a simple sketch or drawing or model to describe shape and function. Students can look at historical change and how role people have in that. To help their understanding, students can read Amelia and Eleanor Go for a Ride and look at similes and metaphors while examining character traits.

Grades 6-8: STEM programs for Eleanor Roosevelt NHS: Students will look at engineering and design using the type of airplane that Amelia and Eleanor flew. Students also can learn why events and people become historically significant.
Keeping with the theme, students can use graphic organization while reading Eleanor Roosevelt: Fighter for Justice.

Grades 9-12: STEM programs for Eleanor Roosevelt NHS: have students consider a major global challenge and derive solutions that accounts for needs and wants. This also may help them to analyze change and continuity in historical era, looking in part at the concert of Marian Anderson in Washington, D.C. Finally, engage them with Our Eleanor, which is filled with photos and stories about her life.

All Grades: STEM Challenge and video: Challenge your students with a human rights challenge. We have a Ranger talk about the site and a challenge based on the Universal Declaration of Human Rights. National Parks Expedition Challenge (expeditionsineducation.org)

Grades K-12: STEM programs for the Hudson River, Catskills, Shawangunk, or the Palisades: Our partner organization Teaching the Hudson Valley offers STEM activities for those areas, visit them at K-12 STEM LESSONS - Teaching the Hudson Valley for more information and lesson outlines. K-12 STEM LESSONS - Teaching the Hudson Valley
Travel Tips
• Parking for buses, vans, and Cars is available at all three sites, please stay in designated areas.

• Bring your lunches and beverages with you. There are limited covered areas to eat by the Home of FDR visitor center, but no covered areas at Vanderbilt Mansion or Eleanor Roosevelt NHS.

• Incorporate pre- and post-visit activities into your trip.
What if there is stormy weather?
• During inclement weather, particularly snowstorms and hurricanes, your national parks may be closed. To check if we are open before you visit call us at 845-229-9115.
Last updated: October 5, 2022