Lesson Plan
"Where Do Human Rights Begin?  In Small Places Close to Home."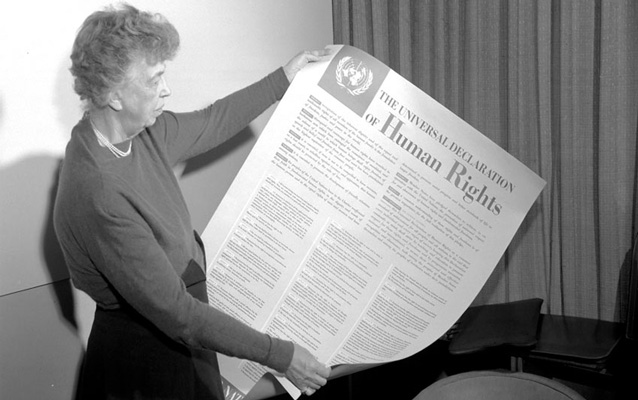 Grade Level:

Seventh Grade-Twelfth Grade

Subject:

Community, Economics, Philanthropy/Humanitarianism, U.S. First Ladies, Women's History

Duration:

120 minutes

Group Size:

Up to 24

Setting:

classroom

National/State Standards:

New York State Standards:

English Language Arts Standard 1:
English Language Arts Standard 3:
Social Studies Standard 3:
Social Studies Standard 4:
Social Studies Standard 5:
Overview
"Where, after all do universal human rights begin?  In small places, close to home, so close and so small that they cannot be seen on any map of the world.  Yet they are the world of the individual person: the neighborhood he lives in; the school or college he attends; the factory, farm or office where he works.  Such are the places where every man, woman and child seeks equal justice, equal opportunity, equal dignity without discrimination........"      - Eleanor Roosevelt
Objective(s)
 Students will know the legacy of Eleanor Roosevelt and her work with social justice issues.
 Students will know the Universal Declaration of Human Rights and how it impacts their lives and the lives of all people.
 Students will have an understanding of Eleanor Roosevelt's impact on the country through her "My Day" columns.
 Students will understand how their choices affect others.
 Students will understand what it means to be an informed consumer.
 Students will know that they have a voice and can be an advocate for change.
Background
Every person has a right to food, shelter, education, play, the right to say what they think and be listened to, and the right to protection from abuse. In this program students will discover Eleanor Roosevelt's role in the creation of the United Nations Universal Declaration of Hu-man Rights and discuss the relevance of these rights in their own lives.
On December 21, 1945, President Harry Truman wrote to Eleanor Roosevelt announcing that he had appointed her as a representative to the first session of the United Nations. This was a strategic move on the part of the President. Not only was Mrs. Roosevelt a well-known figure throughout the world but her presence, on such a high profile committee, gave recognition to women in government sanctioned positions.
On December 10, 1948, the General Assembly of the United Nations adopted the Declaration of Human Rights. Eleanor Roosevelt was the chairwoman of this committee. She traveled the world to spread the message that all people were created equal and should be treated fairly. Eleanor Roosevelt's dedication and perseverance laid the groundwork for future human rights. The Convention on the Rights of Children was adopted by the General Assembly.
Additional Resources
Program now available for 5th Grade in addition to 7th - 12th.
Vocabulary
Social justice, Economic justice, United Nations, Universal Declaration of Human Rights Human Rights, "My Day," Consumer, Consumerism, Equity, National Park Service, Val-Kill.
Last updated: February 26, 2015