On election eve 1928, the people of Hyde Park marched with torches in hand to Springwood, the family home of Franklin Delano Roosevelt, who was campaigning for Governor of New York. When they arrived, they were given one message: vote. " The continuing health and vigor of our democratic system depends on the public spirit and devotion of its citizens which find expression in the ballot box."
FDR was a spirited campaigner, and his torchlight parades were a longstanding tradition throughout his entire time in office.  On this election eve, October 14, 2016, the Roosevelt-Vanderbilt National Historic Sites honored this tradition by holding our own torchlight parade.  Beginning at the Henry A. Wallace Visitor Center, visitors were greeted by Supervisory Park Ranger Franceska Macsali-Urbin who sent them back in time to the 1940's.  "Radio was popular, families would gather around to listen to comedy shows like Abbott & Costello and Lone Ranger..." she continued, "Bread was eight cents a loaf, milk was 34 cents a gallon, and minimum wage was 38 cents an hour."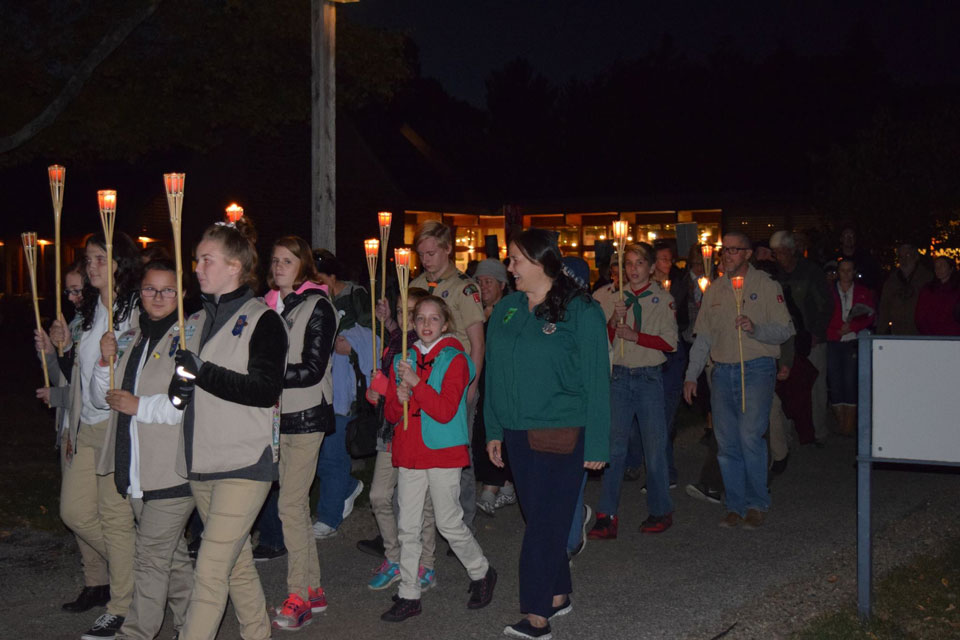 Photo - Cassie Kelly
It was a chilly autumn evening and a bright full moon was rising through the trees.  Lead by the FDR High School Marching Band and the Girl Scouts and Boy Scouts of America, the visitors carried candlelit torches and political posters, to the porch of Springwood.  Once they arrived, they were given a series of special speeches.  Mr. John Golden, almost 93, a beloved member of the Hyde Park Community, told the visitors his vivid memories of the 1928 Torchlight Parade, lead by FDR himself.  Not even five years old, Golden could remember he and his father fashioning their own torches out of a swab of cotton dipped in motor oil.  They piled in their cars and drove down Albany Post Road toward Springwood.
"It was a wonderful time to be a child in Hyde Park," he says.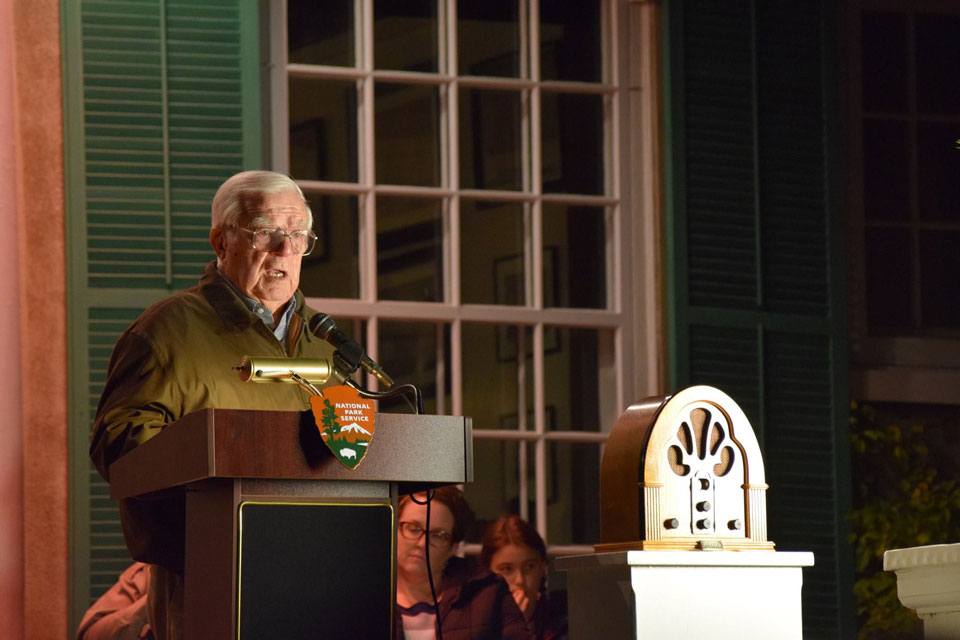 NPS Photo - Cassie Kelly
After Golden spoke, visitors were delighted with a speech from David Roosevelt, grandson of Franklin and Eleanor. This was the first time the speech FDR made at Glacier National Park would be recited by one of his own kin. The original speech, made in August 1934, was in regard to the National Parks. "There is nothing so American as our national parks. The scenery and wildlife are native. The fundamental idea behind the parks is native. It is, in brief, that the country belongs to the people, that it is in the process of making for the enrichment of the lives of all of us. The parks stand as the outward symbol of this great human principle."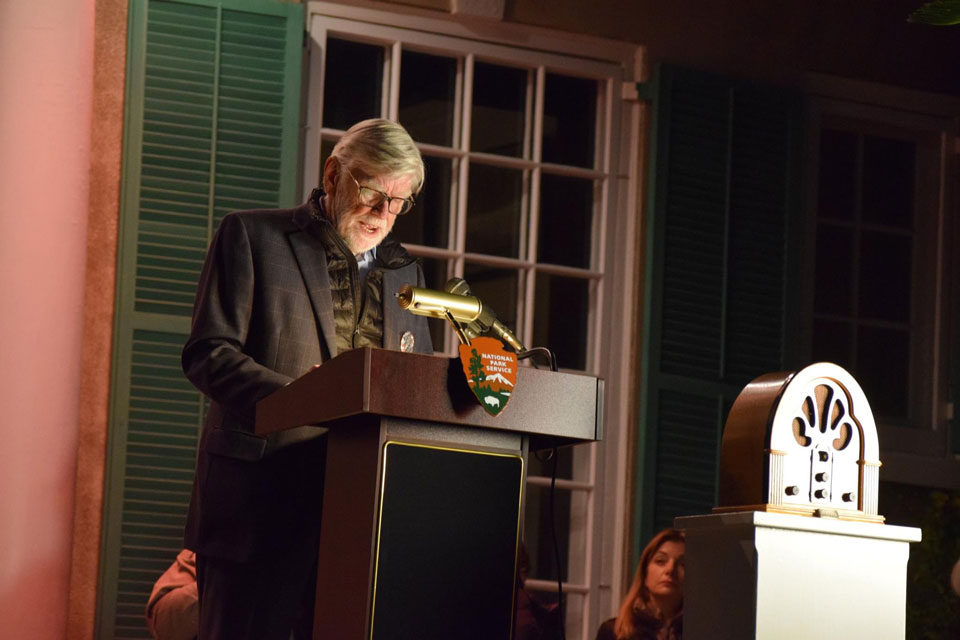 Hearing David speak the words was an enriching experience for every visitor. After he spoke, visitors enjoyed a few songs by local trio musical group Betty And The Boomers who played FDR's favorite song Home On The Range. The visitors sang along as the trio strummed their guitars.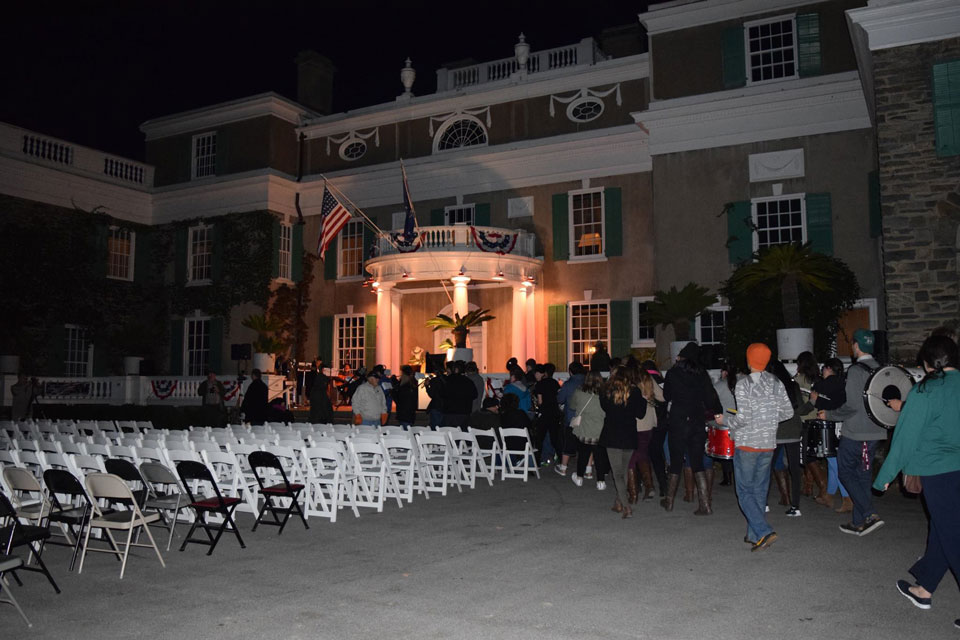 To complete the night, there was a reenactment of what an FDR Torchlight Parade was truly like for those who participated. A recording of FDR's election eve speech in Poughkeepsie aired on a vintage analog speaker, offering an authentic perspective to visitors. And then, FDR arrived.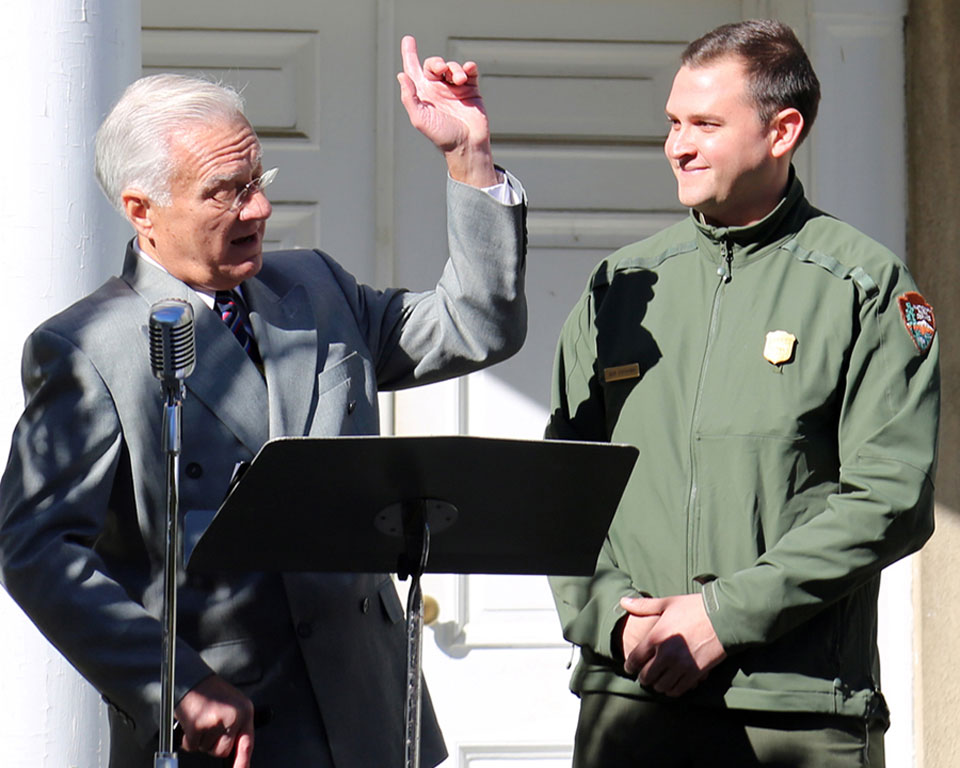 Walking with a cane and a pipe out onto the porch, FDR and his son graced the stage with a speech on the importance of voting. Behind him were his wife Eleanor, his mother Sara, his daughter Anna and her husband and even Fala.
When all was said and done, the visitors walked back to the Wallace Center to meet FDR and enjoy a cup of apple cider.
Roosevelt-Vanderbilt National Historic Site would like to thank everyone who participated in the Torchlight parade including, Cassie Kelly, our Social Media Intern. This was Cassie's last event blog post for us and we want to thank her for the great job she has done for us over the last six months. We wish her all the best!
We will continue our blog posts with a new intern so stay tuned…..