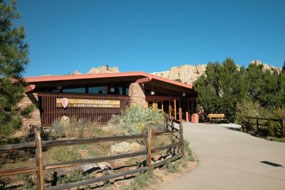 The El Morro Visitor Center

Your visit to El Morro National Monument begins here. Park rangers and volunteers are available to answer your questions and orient you to the facilities and self-guided trails. Both trails begin at the visitor center.

Exhibits located in the visitor center span more than 700 years of human history in the El Morro area. A 15-minute video provides a great introduction to the cultural and natural history of El Morro.

The current visitor center was completed in 1964 as part of the Mission 66 effort. Mission 66 was a ten-year program created to revitalize the national parks in time for the 50th anniversary of the National Park Service in 1966.