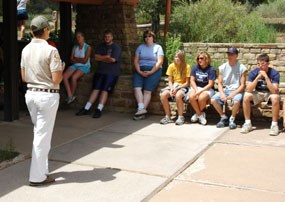 El Morro National Monument no longer charges an entrance fee. In place of fee waivers, we now use the School Visit Reservation form as part of our system to manage multiple school group visits, reserve picnic facilities, and provide adequate staff support.
Spring and fall bring heavy visitation from visiting school groups. To insure that every group has a quality experience, El Morro National Monument has implemented a reservation system. To apply for a reservation, we suggest that you first call the visitor center to see if the day you wish to visit is available. Occasionally, the date you request may already be reserved, so the earlier you apply, the better!
(505) 783-4226 ext. 801
.
Next, complete the School Visit Reservation form, print
page two
of the following PDF file, fill it out completely, and fax or mail it to the School Group Coordinator at the contact information listed at the bottom of the first page. Please be sure to show (with a course outline or lesson plan) how a visit to El Morro relates to something you are studying in class.
Your school visit will not be confirmed until we receive the School Visit Reservation form.
Educational Visits: Application Form to a Make Reservation
The park staff will need your completed School Visit Reservation Application at least two weeks prior to your field trip date.
Plan a Field Trip