Lava Tube Caving
All caves are closed for visitor safety and resource protection until further notice.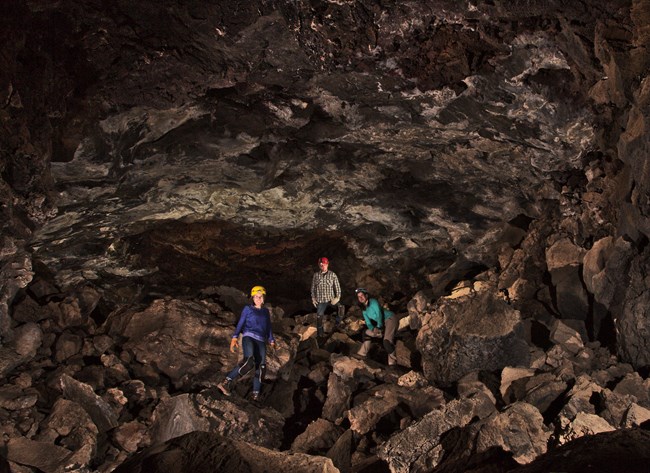 Lava tube caves await your careful exploration with their fascinating geology, hidden ice formations, sun gardens, and elusive
bat
residents. The only requirements to explore these underground ecosystems are a free caving permit and proper equipment. Cave access varies throughout the year, so always check any
park alerts
before your visit and speak with a park ranger for the most recent updates.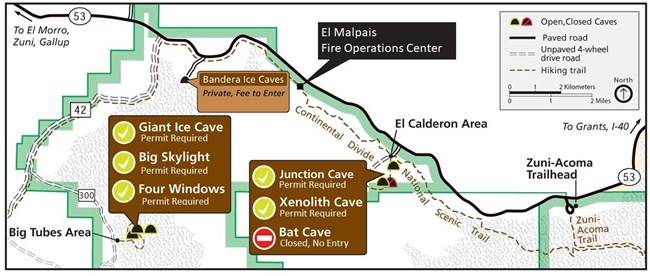 The Caves
Five caves are open to the public for cave exploration. Junction Cave and Xenolith Cave (pronounced ZHEE-no-LITH) are available at the El Calderon Area. Big Skylight, Giant Ice, and Four Windows Caves are available at the Big Tubes Area.

Driving to Big Tubes on County Road 42 is half the adventure, although may be impassible depending on weather conditions and what time of year you visit.
Caving Permit Information
A free caving permit may be obtained in person at the El Malpais Visitor Center and at the El Morro Visitor Center. Permits are valid for up to seven days after the date it is issued.

Individual and group caving permits are only valid with a cave permit number obtained from a park ranger at a visitor center. An individual permit application may be completed in advance of your trip and brought to a park ranger at a visitor center to obtain a cave permit number.

Groups of eleven or more need to call 505-876-2783 to reserve a date and time thirty days in advance. After making a reservation, a group permit application may be completed in advance and brought to a park ranger at a visitor center to obtain a valid cave permit number. Two adult chaperones are required for every eight children in order to obtain a group caving permit.

A new permit is required if visitors go to caves outside the monument and then return to re-enter caves in El Malpais.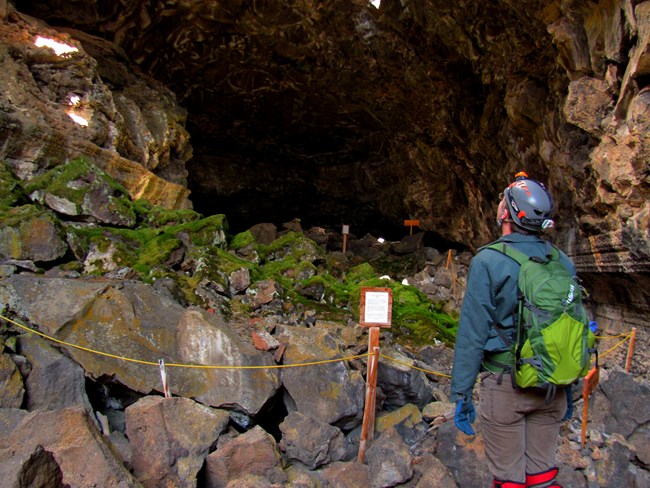 Cave Safely
Wear a helmet, hiking boots, protective clothing, and gloves.
Carry three flashlights per person, plus extra batteries and bulbs.
Be cautious—you may encounter tight spaces and loose rocks.
Carry water and a first aid kit.
Never go caving alone.
Cave Softly
Do not leave anything in the cave. Food and trash left in the cave will affect cave life.
Heat-producing light sources (lanterns, candles, lighters) are prohibited in all caves.
Moss and other vegetation in the caves are fragile oases of life. Please be careful where you step.
Pets are not allowed in any caves.
Remember to decontaminate any gear that has been in another cave prior to your visit.
Be a respectful cave guest by being very quiet and by not shining your light on any bats you may see.
Bat Etiquette
The first step of bat etiquette while caving is if you see a bat, leave it alone. Do not shine lights directly on it, do not touch it, and do your best not to wake it up. If the bat starts to move because of your continued activity, quietly exit the cave. If a bat begins to or is already flying around, quietly make your way back to the mouth of the cave as soon as you can.

Some caves at El Malpais are closed seasonally or permanently to protect bats. Remember to respect the cave closures in effect during your visit.
Summer closures protect caves bats use as maternity colonies. If a maternity colony greatly disturbed, the bats may attempt to find new roost sites which can be fatal for both mothers and pups (baby bats).
Winter closures protect hibernating bats. If bats are disturbed during their hibernation, they can use up their valuable fat stores and starve to death. If you see a singular or group of hibernating bats, turn around as quietly as possible and notify a park ranger where you saw them.

To prevent the spread of white-nose syndrome to the caves and bats at El Malpais, it is important to remember to decontaminate your gear before you arrive and follow the decontamination protocol once you arrive.
Last updated: October 4, 2020